DalHee hug

BTS
updated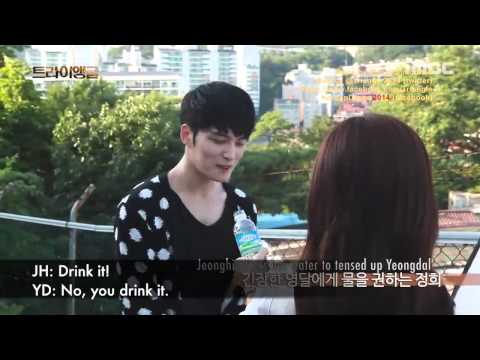 DalHee hug scene
with English subs
by Triangle Korean Drama on YouTube/as tagged
YoungDal/YangHa


BTS
from iMBC
via kpkjyj
| | |
| --- | --- |
| | Drama 'Triangle' surpasses 100 million views in China |
Drama triangle has surpassed 100 million views in China.
On June 20th, a representative of C-JeS Entertainment said, "MBC drama 'Triangle' is getting explosive reactions from China and Japan recently, and Kim Jae Joong's previous dramas are growing popular in those regions again."
'Triangle' has surpassed 100 million views on China's major online video streaming website, and a special video clip that Kim Jae Joong's Chinese fan club members produced will be played on 144 screens around subway stations in Seoul for one month.
Drama 'Save the Boss', which was broadcasted back in 2011, is also getting around 45 thousand views per day.
OST of 'Triangle', 'But I', which Kim Jae Joong sang, also got ranked #2 on iTunes Japan's OST Chart, and #4 on iTunes Single Chart. Channels BS Japan, Home Drama Channel, and Osaka TVO also decided to broadcast 'Doctor Jin' from July.
An official said, "Kim Jae Joong's power brought us huge profits. The drama will be broadcasted in Japan soon, but a great number of fans are watching it already with their own translations. The drama also received the highest average points on a Korean drama website in China."
Meanwhile, 'Triangle' airs on every Monday and Tuesday at 10 PM.
/Reporting by Jeong Ju-Ri en@starnnews.com
http://en.starnnews.com/news/index.html?no=308213