This time I will write about my number 2 on my fav list of YC's drama and my no.1 fav.character of YC.
I will not write a lot about this drama coz I think I've already written a lot about it, hehhee.....(maybe there will be some repetition on this post with my recaps & review). IMU is my number 2 on my fav list of YC's drama. Why? It is because IMU was the 1st YC's drama I watched via live streaming and the 1st time participated on YC's drama thread. After only became a Chunsa for 1 month and busy for download & watched all his vids, I got a very good news that I will see him on a new drama. So happy that I didn't have to wait for so long to see him on another drama. The expectation was so high....and even before the drama aired, I already had decision that I will more active on the drama thread and would make the best thing I can do. After that, it became a story.....I love the drama & the drama's thread and can meet another Chunsa. It's so awesome and the good thing was I like his Lead Female, so there was no obstacle.
Btw, it's funny coz when I google "Missing you butterfly image", I see this.......lol.....That was my screencap for IMU's recap eps. 18-19 and I remember that I wrote a metaphore for Harry (compare him with butterfly).
Han Jung Woo is my number 1 on my fav character of YC's. Why? It is because I think for all his character, JW is the most similar with YC's own character. He looks so real to me. He has so many expresion, similar with Lee Gak but Jung Woo has more point coz I love all his interaction with another character. The 1st time for me coz usually I only like the interaction between the Lead Male and the Female Lead, hehhe......
Before I can see Yoo Chun as Han Jung Woo, I watched the introduction about Han Jung Woo...
Lol.....I love Chun at first heard (love YC's voice) and I remember that I watched this vid before.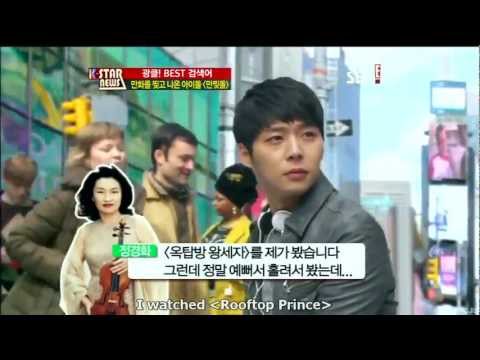 Then finally I saw YC. I love the 1st scene (the singing scene) and I laughed so hard when saw this....lol....JW's singing liability is so far from YC.
Then saw this......OMO......It's so Yoo Chun, hahahaha...... After became a Chunsa, that number always on my mind, so when I saw this scene, I didn't see number 62 but number 6002. Hahhaa......
Then the moment when I saw this, I knew that I will see another YC's best acting. I love the changes of his expression and his voice.
After that I love all about Jung Woo just like I love all about Yoo Chun.
I want to answer
@priti
question.....all question must have only 1 answer, right? But for the 1st question I have 2 answer, hehhee.....
1.Which scene Jung Woo looked at most handsome?
For JW's 1st hair style I love this....(the same with my PP, hehehe.....) Jung Woo looked so handsome to me on this scene (although he always looks handsome, hehhe....) I love the jacket & I can see his collarbone, hehhee.....(although feel sorry for YC coz he wore thin clothes on the cold weather). Also because on this scene, he did the 2nd swaaa...for SY with happy smile and off course because finally Harry knew that the swaa thing is belongs to Jung Woo, lol......
For JW's 2nd hair style, I love this... The 1st time saw JW with black shirt like that. He's so cool..and I also can see his dimple.
This scene....LOL......Must repeat coz when I made a recap, I made screencap for every second of this scene, hahaha.....
3. Which scene u like the best?
I love this scene..... Jung Woo is still alive. Although I was always so sure that JW will not die but when saw this scene finally I can sighed with relief.
4. Which scene u cry the most? (I add this question)
I've never cry when I watched IMU from eps.1 till eps. 20 but I cry for this scene (eps.21).....When JW call his Aein "Mother"......Gosh, it's actually a happy scene but I cry like his Aein. I cry for happiness......
Let's see, will YC's next character can defeat Han Jung Woo or not, hehehe.....
Some pics are credit to thesweet5.blog.me (6002SKY)
EDIT: lol.....I made some mistake, I didn't put my name on the right position on some pics.