HaeMoo Reviews
TIFF
HaeMoo Reviews/Reactions from the recently concluded TIFF...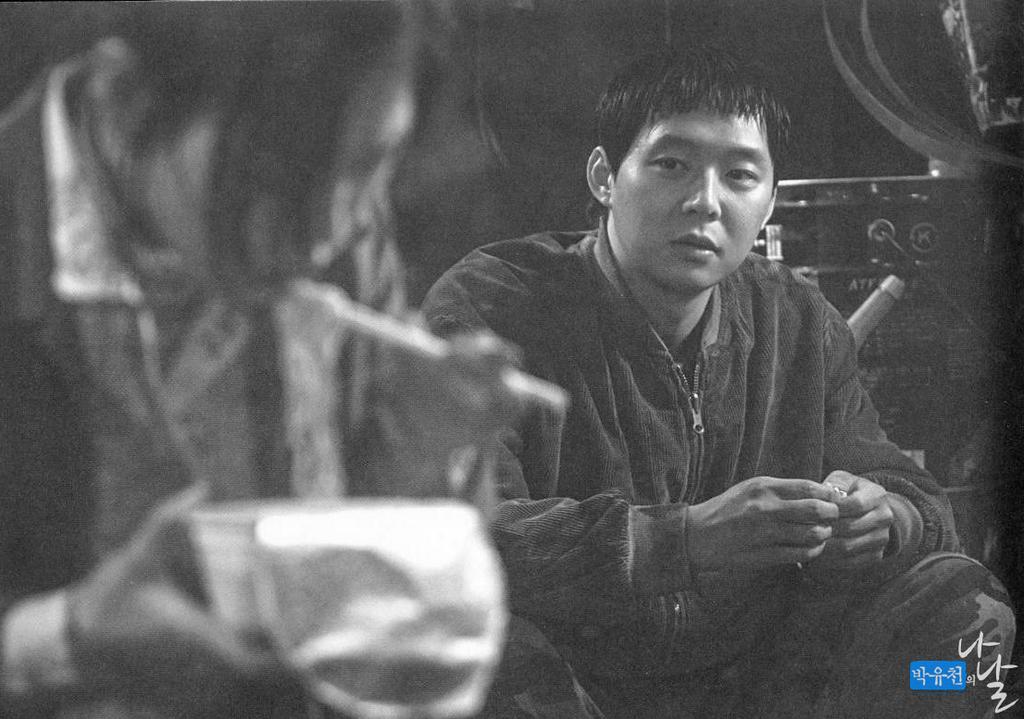 Haemoo - 9/10

A fishing boat crew on its last legs are forced to take up a human smuggling job. Absolutely fantastic, my favorite film of TIFF. The intensity throughout the entire film is incredibly well-done as is the portrayal of the descents of all the characters. I was iffy on a romantic subplot that is introduced at the beginning of the film but it becomes part of the foundation that holds the entire film up. Once the second act of the film starts up, it never really slows down. This film is packed with incredibly uncomfortable but powerful scenes and there were noticeable gasps in my audience throughout most of the final two acts of the film. The camera is shaky, the score is great, the scenes look beautiful. I loved, loved, loved, loved this movie. My only complaint is the ending which I thought could've been cut out entirely but it didn't really hurt the film much.
http://t.co/9QJlqyTuwG
Final #TIFF14 Reviews: The Crow's Egg, Big Game, Men, Women & Children, 99 Homes and Haemoo

http://

wp.me/pLwiv-7JY
@

Amanda_Parsons
***
Haemoo
Gala
With Snowpiercer finally out and as beloved as all assumed it would be, the time has come to appreciate Joon-ho Bong's next movie….kind of. He produced and co-wrote Haemoo, while directing duties fell into the hands of his longtime writing partner Sung-Bo Shim. Bong's fingerprints remain on the film in its radical tonal shifts, but beyond that Shim delivers a different beast of a film. For one thing, Bong's heavy genre movie influence is all but removed. Haemoo is based on a true story about a ragtag of impoverished South Korean fisherman (with various degrees of prickishness in the group) who agree to smuggle a collection of illegal Chinese immigrant into their country for a little extra cash. Describing more would be unfair given the way that Shim and Bong structure their movie.
About halfway through the running time something happens that completely changes the tone, feel, and purpose of the film. For the first chunk, goofy humor pops up in pockets and there's even an element of mild swashbuckling. By the end, the film is a terse and intense thriller with touches of Treasure of the Sierra Mandre. The script handles the radical shifts and complex morality of the tale masterfully, the acting is heartbreakingly real, and for first timer, Shim proves to be one hell of a director. He's able to stage big set pieces, small claustrophobic suspense sequences, and intimate human tragedy with equal skill. Somehow he even mixes it all together in a film that feels tonally consistent despite its unpredictable nature. Tonal roller coasters have always been the Joon-ho Bong way of filmmaking and now it seems as though his former partner can continue the tradition from a different angle.
The South Korean film world was already bursting with ridiculously talented auteurs before Haemoo, but it looks like we're going to have to add another big boy to the list. (Phil Brown)
Screens
Tuesday, September 9, 6:30pm, Roy Thomson Hall
Wednesday, September 10, 12:00pm, Ryerson Theatre
Sunday, September14, 12:00pm, Ryerson Theatre
***
***
'Haemoo': Toronto Review
Bong Joon-ho produced and co-wrote first-time director Shim Sung-bo's thriller about a fishing-boat crew's descent into red mist after a botched human-trafficking operation
Quite a few recent Korean movies are obsessed with representing China as an external threat to security and order at home. There's a Korean-Chinese mob wreaking havoc in Seoul in the high-octane thriller The Yellow Sea, for example, and The Thieves' über-villain is a Chinese underworld kingpin. With Haemoo, screenwriter-turned-director Shim Sung-bo subverts this long-running equation by revealing the possibilities of Koreans being in the wrong when people from the two cultures collide, as he adapts Kim Min-jung's play about the real-life incidence of a Korean fishing boat crew casting the bodies of 25 Chinese illegal immigrants aboard after a botched smuggling operation.
It's not as if Shim hasn't dealt with this theme of crime and guilt before: His screenplay for the 2003 hit Memories of Murder, co-written by the film's director Bong Joon-ho (The Host, Snowpiercer), is a powerful suspense thriller which doubles up as a j'accuse about the moral void giving free rein to the neo-liberal, authoritarian excess of the U.S.-backed South Korean military dictatorship in the 1980s.
With Bong returning Shim the favor by serving as co-writer and producer, Haemoo (or "Sea Fog" in Korean) certainly boasts a similar sensitivity of turning a genre flick into a more substantial social allegory. Once in the directorial chair, however, Shim has shown himself to be more attuned to straightforward sensitivity than Bong. Subtlety and reflection are not Shim's strongest suit, with Haemoo subscribing to many of the conventions of both disaster epics and revenge drama, and the over-dependence of a central seaborne romance (complete with a below-deck sex scene) actually veering the film towards Titanic territory.
It's a gripping ride through the storm, nevertheless; with powerful imagery, a simple and accessible story and a stellar performance from Kim Yoon-seok (the star of The Yellow Sea and The Thieves, no less) as a captain slowly spiraling towards madness, Haemoo has become a commercial and critical triumph since its release in South Korea in August. Its bow as a gala presentation at Toronto and then a competition title at San Sebastian would certainly secure this big-budget vessel with an ever more respectable coating, and Bong's participation would probably lead to a niche release and/or ancillary action outside Asia.
The term 'IMF noir' has been used to describe films — among them Bong's The Host and also Lee Chang-dong's Peppermint Candy — which explore how ordinary South Koreans realize their fate as being dictated by the ebbs and flows of political and economic forces from beyond their home country's boundaries. Haemoo certainly qualifies as a fellow traveling show: set in 1998, three years before the real-life incident actually took place, the film's journey into darkness begins when trawler captain Kang Chul-joo (Kim) finds himself broke (and broken) beyond repair, his fortunes hit hard by the fallout of the Asian financial crisis.
Desperately trying to secure cash to save his creaking boat, Kang agrees to take on a 'croaker-fishing' commission, a phrase used to denote the trafficking of Korean-Chinese immigrants over to South Korea. It's a trip of no return for Kang and his crew as their harmless veneers begin to crack once the job goes awry. As deadly mayhem sets in — just at the very moment when a heavy fog renders zero-visibility around the boat — chaos reigns with all hands on board going crazy, including the bald, bumbling boatswain Ho-young (Kim Sang-ho), the swaggering handyman Kyung-goo (Yoo Seung-mok), the chief engineer Wan-ho (Moon Sung-keun) and his sex-crazed deputy Chang-wook (Lee Hee-joon).
The only faint light of humanity is personified here in Dong-sik (Park Yoo-chun), whose love for one of the immigrants emboldens him to rebel against this Kang-led rising tide of red mist. It's a crowd-pleasing trope no less — Park is a pop idol and soap opera star whose fame stretches well into China and Japan — but this romantic subplot derails the film's possible trajectory into fantastical eerie horror. When the girl, Hong-mae (Han Ye-ri), tells Dong-sik about her wish to head to an address in downtown Seoul once she arrives in Korea, you can really figure out how the story will pan out and who's going to survive all this.
Nevertheless, Haemoo offers a spectacle to behold: The camerawork from Hong Kyung-pyo (Snowpiercer) and Lee Ha-joon's production design are effective in highlighting the differences between the lands of vast, cold port and the unforgiving environments of the sea and cramped insides of the fishing boat. Kim Sang-bum and Kim Jae-bum's editing also helps the film set sail — their opening-sequence montage, showing the boat crew going about their daily business with bright bonhomie, is a clever signpost warning of how this camaraderie would inevitably give way to the emergence of their darker inner psyches.
Venue: Toronto International Film Festival (Gala Presentations); also San Sebastian International Film Festival (Competition)
Production Company: Haemoo Co., Ltd
Cast: Kim Yoon-seok, Park Yu-chun, Han Ye-ri, Park Yoo-chun
Director: Shim Sung-bo
Screenwriters: Shim Sung-bo, Bong Joon-ho, based on a play by Kim Min-jung
Producers: Bong Joon-ho, Cho Neung-yeon, Lewis Taewan Kim with Yu In-soo
Executive producers: Kim Woo-taek
Director of photography: Hong Kyung-pyo
Production designer: Lee Ha-joon
Costume designer: Choi Se-yeon
Editors: Kim Sang-bum, Kim Jae-bum
Music: Jung Jae-il
Sales: Finecut
In Korean
***
***
TIFF Review: Korean Thriller 'Haemoo' Co-Written By 'Snowpiercer' Director Bong Joon-Ho
South Korean cinema has a special way of smacking you upside the head as soon as you settle in and feel like you've gotten a grip on its characters and the story's direction. Take a look at any of the most popular films out there, particularly from internationally renowned masters Bong Joon-ho and Park Chan-wook, and you'll see what we're talking about. This year, a single South Korean film, directed by relatively unknown Shim Sung-bo, found its way into TIFF's prestigious Gala program (usually reserved for the glitziest star-filled movies of the season). In fact, it's Shim's debut feature as a director, with only a couple of writing credits under his belt. So how did "Haemoo" end up sailing its way into the significant international waters of Toronto, exactly? Having Bong producing and co-writing your project certainly helps, but making South Korean cinema still feel fresh and vital with its genre-swerving storytelling practically seals the deal.
Set in 1998, during the aftermath from the IMF financial crisis of 1997, "Haemoo" follows a ragtag trawler crew, scraping to survive as fishermen in economically desolate times. Captain Kang (Kim Yoon-seok) is the kind of man who considers his rusty, old and half-broken ship 'Junjin' a family member, stubbornly ignoring everyone's suggestions to do away with it. Meanwhile, when he comes back home and catches his cheating wife in the middle of the act, he merely express his annoyance with a tiresome sigh. With a five-man crew under his leadership, including a wise old engineer who comically hides from debt collectors, and 26-year-old Dong-sik (Park Yu-chun) who prides himself in being a sailor, the walls are closing in on Kang because there's no catch big enough to fish his way out of the financial woes that are drowning him and his brothers-at-sea. With his back up against it, Kang sees no way out other than to accept an illegal smuggling job from a local shyster known for transporting contraband from China. The cargo? Chino-Korean immigrants.
The unraveling of the plot begins when one of the immigrants, Hong-mae (Han Ye-ri), accidentally falls into the water mid-transfer. After a second's hesitation, Dong-sik jumps into the water and saves her, silently vowing, it seems, to be her protector from there on out. Meanwhile, at the sight of two women among the frightened and confused group, Kang mumbles to himself how having women on board his ship is bad luck. Yet, even with these ominous signs and foreshadowing, including a near-fatal incident in the opening sequence of the film, nothing truly prepares the audience for what Bong and Shim have in store once the sea fog (the literal translation of 'Haemoo') sets in. Adventure, action, romance, horror and comedy of the darkest kind reign simultaneously once the shocking incident occurs. To reveal this incident would spoil the gumption shown by the filmmakers, but suffice it to say that "Haemoo" becomes an all-together different kind of beast. For better, and for worse.
Never in a million years would someone be able to watch this film for the first time and guess that it's a debut feature. So assured is the direction, so purposeful is the camera that frenetically follows the characters on the boat, so optimally bleak are the wide shots of the isolated ship, aimlessly stuck between the darkness of the ocean and the darkness of the thundering skies above. The cinematographer Hong Kyeong-pyo truly deserves accolades for imbuing the picture with a ghostlike atmosphere that makes any Tim Burton picture look like a Skittles commercial. Add to this the character of the ship itself, thanks to the screenplay's intelligent scattering of episodes across various locations on the vessel, and you've got yourself a picture of truly epic dimensions. Bong Joon-ho's influence is felt from rhapsodic start to somber finish, and it's clear that the two men have built a good working foundation from their first collaboration, Bong's brilliant "Memories of Murder," which Shim co-wrote. Mind you, once the titular fog envelops the ship and all the hearts and minds on board along with it, the tone of the film obscures any genuine attributes these characters may have possessed in the first half of the film.
About two-thirds in, a realization creeps in that this is a carefully crafted story with characters that can only exist in fiction. The effect is one of dispelled movie magic, not unlike Bong's recent "Snowpiercer". People begin to lose their minds, and human desires flare up, in comically nightmarish fashion that's much too quick to properly absorb and admire. This unwelcome feeling still doesn't stop one from enjoying the devilish fun when one of the crew members calms everyone down by saying "we are all in the same boat. Literally!" The performances from the three leads, Kim in particular relishing his role with subtle viciousness similar to Humphrey Bogart in "Treasure of Sierra Madre", also anchor the film so that it doesn't get too lost in the tonal twists and turns. And once the fog clears, despite the questionable pace along the way, Shim has much to be proud of.
South Korea's peculiar brand of cinema is doubtlessly thrilling when done right. Similarly though, it can tip the genre scales a little too forcefully at times, making for a nauseous ride. "Haemoo" is bit of mixed bag in that sense, and a certain time-jumping decision at the end will leave many international audiences scratching their heads, while it may very well resonate with a more understanding South Korean crowd. In any case, "Haemoo" is a picture worth seeing for its thrills, scrupulous tension-building and mischievous genre twists that will have you gasping one second, and laughing the next.
http://t.co/Om5k37vsFA
***
Haemoo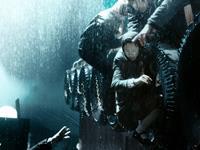 Produced and co-written by one of Korea's most prolific filmmakers Bong Joon Ho, Haemoo is a bleak but superbly orchestrated character-driven feature based on a true story that was made into a stage play about a group of fishermen who smuggle 25 Chinese-Korean immigrants aboard their boat that ends in bitter tragedy.
Cinematographer Hong Kyeong-pyo again further demonstrates his wealth of talent at capturing the limited space, while the exterior shots provide a beautiful yet an eerie backdrop.
The film's dark narrative appears to have been too grim for local audiences given its rather disappointing theatrical run generating an underwhelming $11.4m for a high profile summer release. But, this engrossing feature directed by debut director Shim Sung-bo who also co-wrote Bong Joon Ho's widely acclaimed Memories Of Murder is set to be warmly embraced overseas following its international premiere at the Toronto International Film Festival where audiences will be treated to what is arguably Korea's strongest commercial film so far this year.

Beginning at sea, the film introduces the different members of the fishing boat crew as they carry out their duties with careful attention paid to the vessel's interior and exterior structure, while Shim with the aid of the film's cinematographer Hong Kyeong-pyo also beautifully captures the sea fog - otherwise known as Haemoo in Korean - that encircles the boat.

Once the boat returns to port with a meager catch, the captain (Kim Yoon-seok) is handed a wad of cash in exchange for his and the crew services in smuggling 25 Chinese-Koreans on board the boat. Things take a sour turn when tragedy strikes the illegal immigrants, which turns the already volatile captain into a monstrous individual, while the crew struggle to come to terms with what has happened.

Amongst the crew is also a young man (Park Yu-chun) who develops a relationship with one of the immigrants (played by Han Ye-ri) and seeks to protect her from the increasingly unstable members of his crew.

It's tempting to see this film as a Bong Joon Ho feature as exemplified through the film's well-crafted characters, dark tone and the expertly delivered mise-en-scène, but its lack of dark humour coupled with its venture into genre territory in the final hour reveals Shim's tangible direction.

Comparisons to Snowpiercer are inevitable given Hong's role in both films as the cinematographer along with the fact that both films take place in a confined space as Hong again further demonstrates his wealth of talent at capturing the limited space, while the exterior shots provide a beautiful yet an eerie backdrop.

Kim Yoon-seok (Hwayi: A Monster Boy) who is no stranger playing villainous and morally ambiguous roles is the ideal actor playing the crazed captain taking his character as far as one could go, but it's the younger members of the crew that tend to shine. Park Yu-chun is another example of a K-pop star who can successfully stretch his talent to take on challenging acting roles while Han Ye-ri is especially impressive portraying the young Chinese-Korean.

Haemoo may have struggled to achieve the level of domestic success that other Korean blockbusters such a box office smash hit Roaring Currents have achieved this summer, but its international potential along with the overall quality of the film should help offset any disappointment with its domestic performance.
http://t.co/xAy0nxiFFQ
***
TIFF 2014: Haemoo
***
More Reviews Here:
JYJ CAFFEINE: YuChun's Sea Fog (HaeMoo) Reviews (Updated)
http://jyjcaffeine.blogspot.com/2014/07/yuchun-sea-fog-haemoo.html?spref=tw
[Herald Review] Under the ocean, ugliest side of human desire
Drama 'Sea Fog' centers on true story behind the Taechangho incident
8/14/14
'Sea Fog' peaking high ranking on movie ticket reservation website'

/Reporting by Noh I-seul en@starnnews.com
Review: Bleak And Gripping, HAEMOO Prizes Character Over Spectacle
By Pierce Conran
To date, the summer of 2014 has seen the majority of mainstream Korean films fall into either of two categories: the noir thriller or the period blockbuster. While a handful of terrific genre pieces, namely
A Hard Day
and
Confession
, have succeeded in spite of this inertia, it's been high time for something a little different. Along comes
Haemoo
, a character-driven blockbuster set on a boat that is based on a play which is itself drawn from a real life incident.
A fishing trawler returns to port with a meager catch and when its captain is offered a pile of money to help some Chinese-Korean illegal immigrants sneak onto the peninsula he is quick to pocket the cash. He heads back out to sea along with his five-man crew and in the dead of night they make contact with another vessel carrying their payday. Soon the youngest crewmember forms an attachment with one of the smuggled girls, but as tensions between the crew and their passengers mount and when the Korean maritime police suddenly appear, things quickly spin out of control.
You can often count on Korean cinema to take a familiar setting and turn it on its head. Sea Fog brings other open sea blockbusters such as
Jaws
(1975) and
The Perfect Storm
(2000) to mind, but it is a great deal darker than what you would expect from commercial cinema, particularly a blockbuster of this size (at least by Korean standards). First time director Shim Sung-bo and his co-writer and executive producer Bong Joon Ho deliver a film that is as somber as the latter's recent
Snowpiercer
. But with a far more realistic setting and less of Bong's trademark wry humor,
Haemoo
packs a thunderous emotional whallop.
Much like Bong was confronted with when shooting an ambitious film within the limitations of a train, Shim and cinematographer Hong Kyung-pyo (also the DP on
Snowpiercer
) are tasked with running the audience through a gauntlet of thrills and emotions within the confines of a small fishing boat. The brooding weather, which veers from stark daylight and ominous night to thick batches of creeping fog, ably amplifies the foreboding tone of the film. Equally impressive is the claustrophobic interior lensing. Every shot is permeated with a dank warmth that acts as a refuge from the literal and figurative tempests that take place on deck before turning the space into an oppressive tangle of burning pipes offering no exit from the encroaching terror. Throughout, the fluidity between shots, which evolve as actors move within or in and out of frame with clear precision, makes the film's visual tone rich and expressive.
Haemoo, which secured a choice mid-August release date, is presented as a summer blockbuster, but it is far more concerned with characters than visual spectacle. While the film is expertly made, all its visual thrills are present to serve the characters and their complexly interwoven moral trajectories. But a sagacious mise-en-scene can only get you so far. Thankfully, the film's greatest strength lies in its cast.
Most familiar to viewers will be Kim Yun-seok, whose droopy, yet keen eyes have brought some of the most fearsome characters in modern Korean cinema to life. His turn here recalls his roles in
The Yellow Sea
(2011) and
Hwayi: A Monster Boy
, both for its commanding presence and ruthless practicality. In a position of authority and placed in a horrifying situation, Kim's Captain is a man who makes quick decisions and follows through at all costs.
Park Yoochun, a member of the Kpop group JYJ, convinces in his first major film outing as the youngest crewmember. He and Han Ye-ri, a rising star who does her best work to date, serve as the emotional core of the film. Theirs is an unlikely romance, but the young thespians sell it by avoiding histrionics in favor of soft palpitations and pellucid expressions. As the remaining members of the crew, veterans Moon Sung-geun, Kim Sang-ho, Lee Hee-joon and Yoo Seung-mok each manage to turn their gruff fisherman into unique and complex individuals.
Haemoo
explores some bleak territory and considering its setting and plot, unfortunate but inevitable similarities with the recent Sewol Ferry Sinking do arise. Given how fresh a memory that is and how powerful a film this is, it may act as a painful reminder to some. It remains to be seen whether this affects the film's eventual returns, but it doesn't make the film any less compelling.
The only place where
Haemoo
stumbles is in its final reel. By rehashing a few well-worn genre tropes and temporarily abandoning its engaging character arcs, it feels as though the production is ticking a few boxes that its big budget requires it to. However, the film does still end on a strong note. As dark and daring a blockbuster as they come,
Haemoo
is a terrific summer tentpole, and one like no other.
Source: Modern Korean Cinema