RECENT NEWS ABOUT JYJ
Week of 8/18-8/24
[PIC] New "Haemoo"/"Sea Fog" poster for 2014 Toronto International Film Festival & Vancouver International Film Festival
JYJ's Kim Jaejoong Makes Surprising Casual Appearance on "Gag Concert"
JYJ's Kim Jaejoong
proved that stars still shine even while in disguise.
On the August 24 episode of
KBS 2TV's "Gag Concert,
" the singer was shown briefly on the screen as the camera panned to show the audience who were laughing so hard in the
"Strongest Mentality"
segment.
Even while the camera focused on the audience member in front of Kim Jaejoong, the singer was still eye-catching despite wearing a mask to cover his face. Kim Jaejoong was also wearing a simple gray tank top and a black beanie, trying his best to look as normal as possible.
While other people would've thought that he was just a normal audience member, fans of Kim Jaejoong were able to tell that it was him because of his chest tattoo that peeks from his tank top.
After the broadcast, Kim Jaejoong confirmed on his personal Twitter account that it was indeed him and posted screen cap of his Gag Concert "appearance" together with the words, "Return to local TV~!! I appeared even without washing my face and just wearing my training clothes and slippers!"
The singer also jokingly praised himself and tweeted to his own account, "You looked tall and slender in your tv appearance!"
Check out Kim Jaejoong's Gag Concert "appearance" through this clip:
Here is also an Instavideo of Kim Jaejoong with the cast of "Gag Concert!"
Jaejoong's Instagram
http://instagram.com/bornfreeonekiss2
From Soompi
http://t.co/RDQR260nzH
[Full TRANS] #김재중 Surprize appearance in GAG Concert, even Kim Jaejoong didn't know about it

http://news.naver.com/main/read.nhn?mode=LSD&mid=sec&sid1=106&oid=108&aid=0002331811

JYJ Kim Jaejoong didn't even know about his surprise appearance in GAG Concert.

Kim Jaejoong appeared in KBS 2TV's GAG Concert aired on the 24th as a member of the audience and made the news. Kim Jaejoong was spotted in the audience by the camera during the 'Mental Gab' corner.

Kim Jaejoong didn't expect his surprise appearance. Kim Jaejoong's agency C-jes's representative told Starnews on the 25th, "Comedian Gim Seongwon, who was the MC for JYJ Fan-meeting, invited Kim Jaejoog to GAG Concert filming. Jaejoong went there quietly just to watch GAG Concert in an unofficial schedule with his manager. He was shocked and thought it was interesting that he actually came out during the broadcasting."

He added, "Jeajoong said he was laughing so hard that he wasn't aware of the camera filming his face. Jaejoong loves to watch GAG Concert and is good friends with comedians."

Kim Jaejoong posted the image capture of himself on Twitter right after the broadcast of GAG Concert with a comment, "My Comeback to TV! Appearing without even washing my face, wearing my practice clothes and flipflop!"

He also posted a video of himself playing and laughing with comedians in Instagram revealing their friendship.
by crystalmoon64
JYJ successfully finished the concert for eight thousand fans in Beijing
2014/08/24(Sun) 23:59
JYJ heated up China.
C-Jes entertainment noticed, "We finished '2014 JYJ Asia Tour The Return of The King' on 23rd(local time)."
JYJ visited Beijing three years after the world tour in 2011, and showed their popularity in the cheer of Chinese fans.
At the stage for three hours, JYJ showed 24 songs including the solo stages.
Especially JYJ received cheers by singing '10 years' of Hong Kong artist Eason Chan in Chinese, for Chinese fans.
JYJ said, "We prepared '10 years' to give special stage for Chinese fans. As this year is the 10th anniversary of debut, it is meaningful to sing Chinese songs, and we hope to have more chance to sing Chinese songs."
In succession he said, "Thanks for Chinese fans who filled the concert hall and cheered us. It has been 10 years but fans are enthusiastic yet. We always feel thankful and please expect us more."
JYJ will have the forth concert, '2014 JYJ Asia Tour The Return of The King' at Vietnam on 30th. [Photo=C-Jes Entertainment]
Innolife
[TWITTER] 140824 Kim Jaejoong Twitter Update: Public comeback on KBS Gag Concert
***
***
| | |
| --- | --- |
| | |
| | JYJ |
JYJ held an approximately three-hour concert for fans in China over the weekend.

The group performed at its "The Return of the King" concert, which is part of its Asia tour, on Saturday in front of 8,000 fans in Beijing.

It's been about three years since the group visited the city for its world tour in 2011.

"The group spent an unforgettable time with fans who have waited long for them [to come back], said CJes Entertainment, the group's agency.

Including solo performances, the trio presented 24 songs altogether. It opened the concert with dance music such as "Creation" and "Babo Boy," then moved to some ballads such as "Dad, You There?" and "Let Me See."

Fans showed the most excitement over the performance of "Back Seat," the title song of the group's second full-length album that was released last month, the agency said.

"We are so thankful for fans who filled the concert venue and showed their passion," said the group. "Be with us as we will put more efforts to do better."

The group is now traveling to Vietnam for another concert on Saturday.

By Lee Sun-min
From Korea JoongAn Daily
[INSTAGRAM] 140824 Kim Jaejoong Instagram Update: Woof woof
[OTHER WEIBO] 140823 Chinese Celebrity Zhao Chen Yan shares photos with JYJ at the Backstage of Beijing Concert
[TRANS] Chinese Celebrity Zhao Chen Yan Weibo Update:
"JYJ Beijing concert is so hot! The trio's popularity is no less than before. As I meet them face to face, I think JaeJoong is the most handsome."
[TWITTER] 140823 Kim Junsu Twitter Update: 2014 JYJ Concert in Beijing RETURN OF THE KING
[TWITTER] 140823 Kim Jaejoong Twitter Update: 2014 JYJ Concert in Beijing RETURN OF THE KING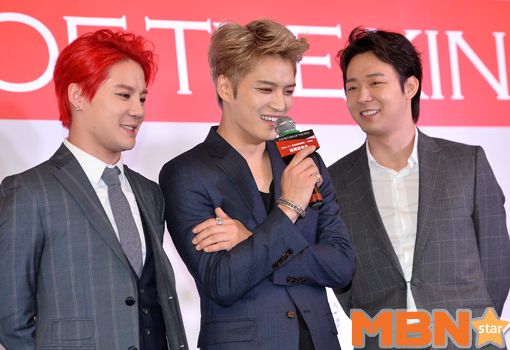 [

TRANS] 140822 Excerpt of Interview from Press Conference for 2014 JYJ Concert in Beijing 'RETURN OF THE KING'
Park Yoochun: "I want to meet JYJ again if I am born again… Proud to be in one team"
Park Yoochun: I always ask the members, 'Was it our fate to meet each other?"
Park Yoochun: Being a member with them is a huge blessing for me
When question about maintaining energy, Kim Junsu: The members do mostly the same. Nothing special, but we try to sleep more. Sleep is the cure of all disease.
Park Yoochun: I get strength from watching Jaejoong hyung's drama and Junsu's musical. I'm doing activities with the strength I got from that right now
Kim Jaejoong: I feel grateful that Yoochun and Junsu are looking out for me in everything I do. I'm gathering energy from the members' affection
"As a member of JYJ, I'm so happy and proud of them(JJ, YC) because they are very good singer turned actors who have been well regarded" by Junsu
"I could naturally hear the praises about them from other people around us first. I'm also proud of how good they do.." by Jaejoong
"I sometimes ask them 'Would we have the destiny to meet just like this?'. I hope we can meet again if we are reborn. When they released their solo album, they had different style and genre but I think their albums don't suffer by comparison with albums released in Hollywood. I think I'm a lucky guy because I can be with them as a member." by Yuchun
5 Times we couldn't resist Kim Jae Joong's charm
Kim Jae Joong
is a bit of a rarity in the world of idols. After being part of the industry for so long, he is definitely not afraid to do exactly what he wants to. He exudes confidence, and he always manages to look flawless, whether acting or on stage. To add to it, his movie
Code Name: Jackal
coming to DramaFever this weekend! For that reason, we decided that we needed 5 photos (and a bonus GIF set that you won't want to miss) to prove why we can never have enough of Kim Jae Joong.
1. He looked like perfection during this shoot for Elle Korea.
---
2. He has mastered guyliner and looks great in pretty much any hair color.
---
3. He is not afraid to be feminine when he wants to (
but he usually keeps it to his solo work).
---
4. He does some pretty boring things with his famous friends.
During the interview pictured above,
Jang Geun Suk
talked about how they always go grocery shopping together since they are neighbors. (Side note: why is Jae Joong inspecting his fingernails?)
---
5. His family is important.
Jae Joong posted this photo of himself and his niece to his Instagram account.
from Dramafever
New post from Jaestagram;)
He is excited to go to Beijing...
http://t.co/NvzSS8hej8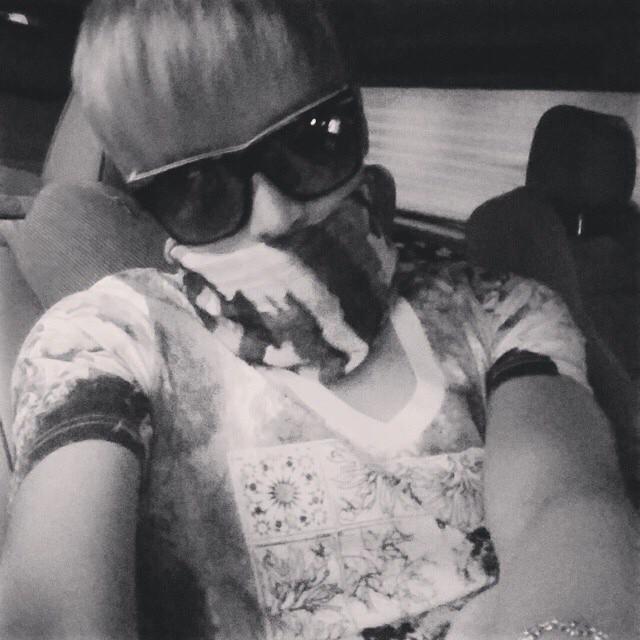 [INSTAGRAM] 140821 Kim Jaejoong Instagram Update 2: Moldir products + Beijing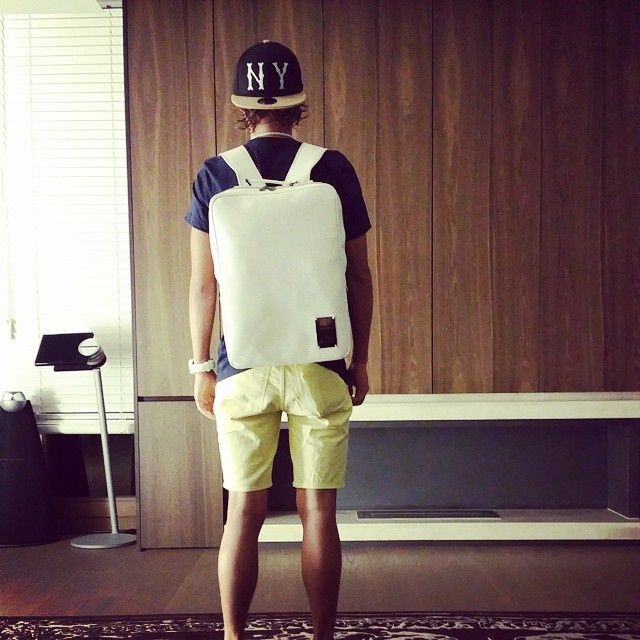 ***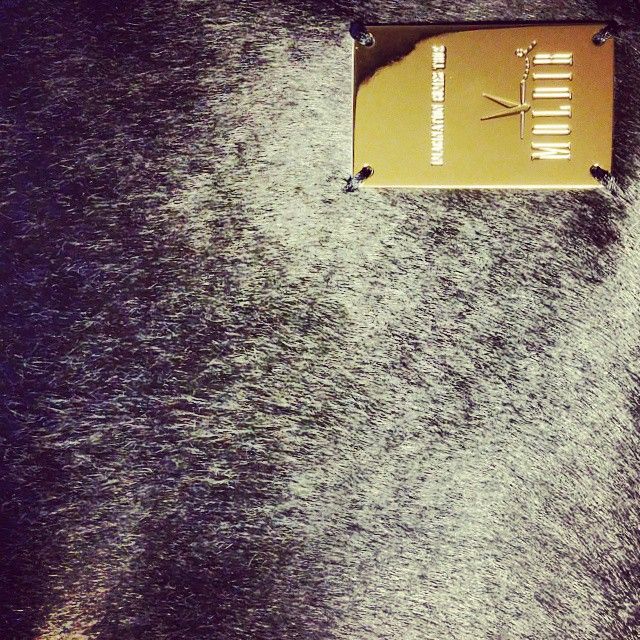 ***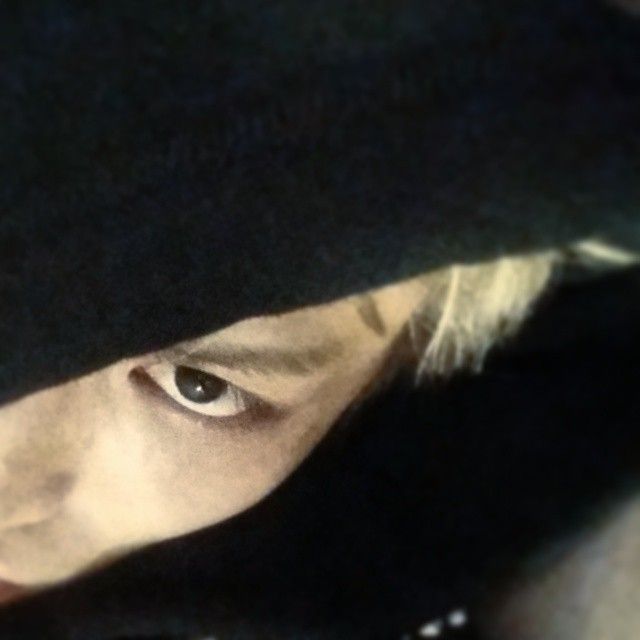 [TWITTER] 140821 Kim Junsu Twitter Update 2: Mina's Seduction
[OTHER INSTAGRAM] 140821 Xris B. shares photos of Jaejoong today
***
***
[INSTAGRAM] 140821 Kim Jaejoong Instagram Update: Artwork + Sneak Shot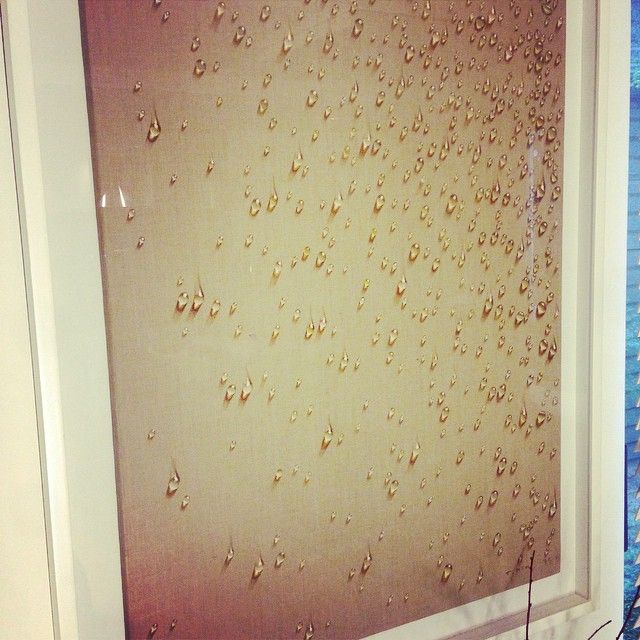 ***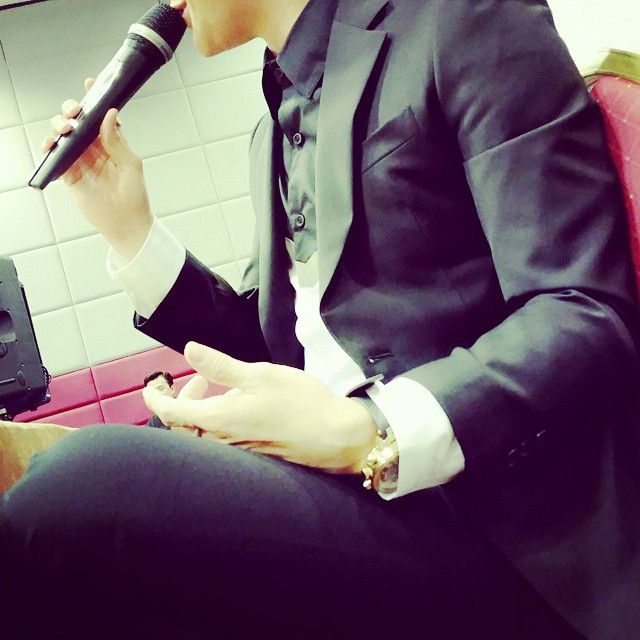 8/20/14
[NEWS] Kim Junsu's Jeju Island Hotel to open, "Will donate profits to the underprivileged"
JYJ's Kim Junsu revealed his thoughts as the opening of his hotel on Jeju Island draws closer.
On the 21st, Kim Junsu stated through CJES Entertainment, "Having performed overseas activities since my 10s, I was able to enjoy a variety of scenery and natural wonders. After my first visit to Jeju Island, I couldn't forget being moved by its mystery and beauty. I wanted to build a dream space on Jeju Island." He continued, "The emotions I felt in Jeju Island were embedded into the architecture and interior of the hotel, and I wanted for guests to leave having made special memories. This is revealed often when I go on tour overseas, but I love palm trees and oceans, so I paid extra attention to Toscana Hotel's palm trees and landscaping, as well as the ocean view and outdoor pools."
Additionally, Kim Junsu plans on donating profits from the hotel to help the underprivileged in many ways, such as helping to pay for their heating bills. He stated, "I feel like I accomplished a dream, and I was very pleased with the exotic feel of the completed Toscana Hotel. I think of this as a new challenge. I want to express my gratitude to the 50 staffs under the General Manager."
Kim Junsu's Toscana Hotel (CEO Kim Junsu), situated at Gangjung-dong, Seogwipo, Jeju Island, is nearing its grand opening. The hotel will open on September 25th, and will begin receiving regular reservations on September 1st. Toscana Hotel measures 21,026 square meters and comprises of a main building spanning 5 floors (B1 to 4th Floor) with 61 rooms, as well as 4 luxurious full villas.
Meanwhile, JJ watched the Gag Concert and uploaded vid on his Jaestagram...
via LOVEY TIC
via 0103_jyj
shared by JYJ3
Then later on...
[SNS] 140820 Kim Jaejoong shares a video and pictures of his challenge for ALS campaign
[VIDEO] ALS캠페인..일리야 땡큐 좋은일하게 해줘서~제가 지목 할분들은 배우 황정음 김규리 최태준씨 입니다
***
[PHOTOS]
This image has been resized to fit in the page. Click to enlarge.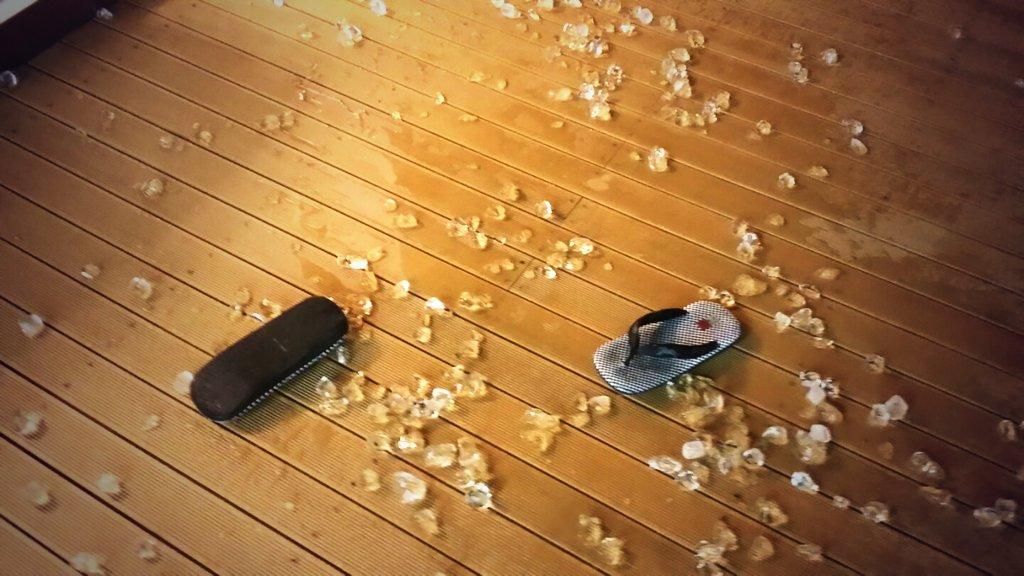 This image has been resized to fit in the page. Click to enlarge.
***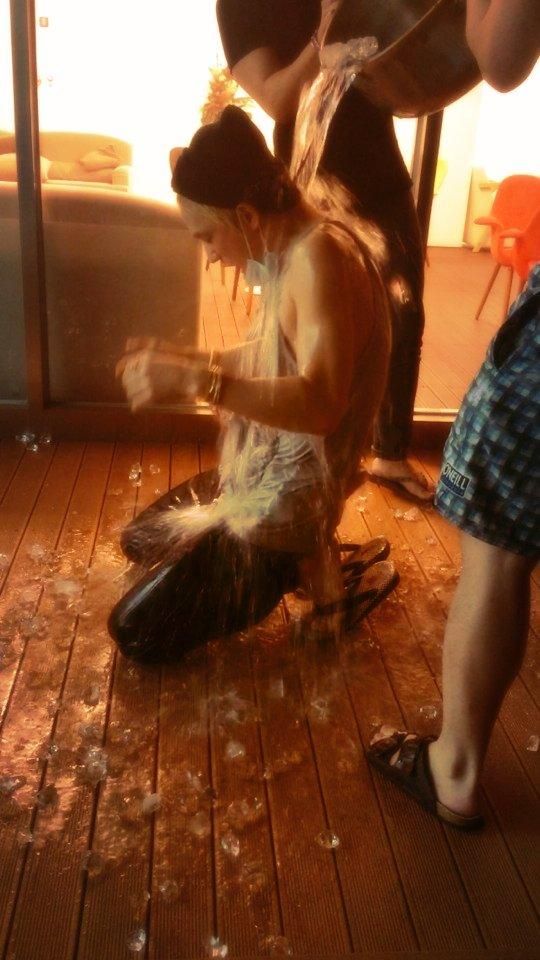 [TWITTER] 140820 Kim Junsu Twitter Update: Fresh Blood
[TWITTER] 140820 B2ST's Gikwang challenges Junsu to do the #ALSIceBucketChallenge
My note: The legendary Choi Min Sik (also from CJeS) responded right away to Junsu's challenge...Whoah!!!
[TWITTER] 140821 Kim Junsu Twitter Update: Sol Kyung-gu's ALS Ice Bucket Challenge
JYJ Nearing Thirty, Becoming Deeper People Making Deeper Music
By Esther Chung | August 20, 2014 07:27 AM EDT
Five years have already passed since the three members of JYJ started their group. JYJ debuted in 2010 with their first album "The Beginning," but they've already been in the industry for 10 years, including the years they spent as TVXQ.
The cute boys have now turned into men looking to their thirties. One thing for sure is that both the people and their music have become deeper throughout the years.
JYJ held a press conference for their 2014 Asia tour concert "THE RETURN OF THE KING" on August 15 in

Hong Kong
. The three seemed more comfortable and calm than anxious and nervous.
The members met on this day at the press conference were much more mature than they were before. They still joked around with each other but all the words that they said were full of meaning and deep thought.
They revealed that they were not scared or worried about getting old. They said that they couldn't believe they were almost 30 and asked, "Are we old now?," arousing laughter.
Junsu said, "I want to be in my thirties. I think men become cooler when they're in their thirties. They may look better in their twenties but the learning and maturing comes when they're in their thirties."
Jaejoong said that he could feel his body getting old in that he gets bad hangovers, bringing laughter to the conference. He said, "I am now seeing a glimpse of the fact that I'm getting old. I think when I'm 35 or 40 and I realize that I can't dance anymore, that's when I'll realize that I'm old."
Yoochun said that he feels his old age when he meets people and things to be thankful for are increasing. He said, "Talking to people and meeting them is like filling in gaps of my life. I've been really thankful for my fans and the staff that work with me. I think that's what getting old means."
JYJ members who became deeper, more humble, and more thankful throughout the years. We send them applause for the things they've overcome and the things they will overcome in the future, whether together or individually.
From KPopStarz
JYJ, neither fear nor worries to become 30s
Published : 2014-08-19 17:27
Updated : 2014-08-19 17:55
Jaejoong, Yoochun, and Junsu of K-pop group JYJ said that they were not afraid to turn 30 at a press conference last Friday, opening up on their feelings about getting older.
"Now I am at the end of my 20s and I started to feel exhausted when I dance hard. Nevertheless, age is just a number," Jaejoong said.
"It has been more than 10 years since we started working together and I have started to feel grateful to my friends and the people around me. I wish I could get along with them for the rest of my life. I am now old and mature enough to realize how blessed I am to perform in front of my fans," Yoochun said.
"I am not worried nor nervous. Rather, I long to become 30 soon. Becoming 30 brings masculinity to my mind. Many experiences will make me a real man," Junsu said.
"It is nice to become 30. I don't know what kind of music am I going to do yet, but I think that makes me look forward to my 30s. As long as fans want me, I will do my best," he added.
After 10 years of sharing struggles and joy, the trio showed great affection toward each other like brothers.
"We do not even have to talk to know each other's feelings. We don't fight and understand each other's behaviors," the group said.
After a concert in Hong Kong, JYJ will continue their Asia tour in eight cities including Shanghai in China.
By Park Gyu-oh, Intern reporter (q5park@heraldcorp.com)
[Photo credit by C-JeS Entertainment]
Actors of 'Sea Fog' celebrate surpassing 1m viewers (8/19/2014)
Actors from the movie "Sea Fog" celebrated the film surpassing 1 million viewers on Tuesday.
Kim Yoon-suk, Park Yoo-chun, Han Yeri, Lee Hee-joon, Moon Sung-geun and Yoo Seung-mok from the film met with viewers at Seoul Theater to commemorate the achievement. The movie is about six crew members on a fishing boat and depicts the human greed that lies just under the surface of some people.
According to the Korean Film Council, the movie collected 1,084,375 viewers in just seven days since its release on Aug. 13.
By Kim Min-jin, Intern reporter (
minjin103@heraldcorp.com
)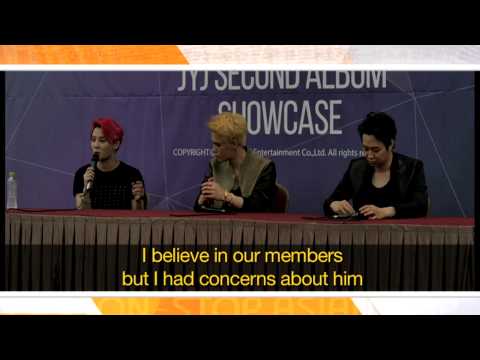 JYJ "Back Seat"
Press Con
English subs
sbspopasia
JYJ to perform at Incheon Asiad opening ceremony
Idol group JYJ is to perform at the opening ceremony of the 2014 Incheon Asian Games, its agency announced Tuesday.

"JYJ will sing the official song of Incheon Asian Games 'Only One' in the opening ceremony on Sept. 19, right before the finale," C-jeS Entertainment was quoted as saying.

"The group was originally pledged to do the finale of both the opening and closing ceremonies of the event, but the promise was failed to be kept," the agency added. "Nevertheless, JYJ decided to perform with responsibility as the promotional ambassador."

Controversy arose when the Incheon Asian Games organizing committee last month excluded JYJ from the performance cast list for the opening ceremony.

The 17th Incheon Asian Games will be held from Sept. 19 to Oct. 4 with the attendance of 45 countries including North Korea.

By Kim Min-jin, Intern reporter (minjin103@heraldcorp.com)

***
After much talk and conflict, JYJ will be participating at the 2014 Incheon Asian Games.

According to C-JeS Entertainment on August 20, JYJ will attend the Opening Ceremony of the 2014 Incheon Asian Games on September 19 at the Incheon Asiad Main Stadium, where the members will sing the Asian Games official song, Only One.

"When JYJ was anointed as honorary ambassadors, we were promised that JYJ would perform at both the opening and closing ceremonies, but at the end of discussions, we will only be singing one song before the finale of the opening ceremony.

JYJ has fulfilled all duties as the honorary ambassadors, recording the song and participating in the music videos and commercials, as well as promotions. However, in July, the Incheon Asian Games committee revealed a list of performers for the Opening and Closing ceremonies and JYJ was not mentioned, causing C-JeS Entertainment to release a statement asking for the committee to be fair.

Photo Credit: C-JeS Entertainment
[CONCERT REVIEW] 140818 JYJ who are back after 3 years… '10 year-fans' entertained in Hong Kong
A woman can be seen holding signs written fully in Hangul. On the 16th, 3-membered idol group JYJ performed in Hong Kong's Lantau Asia World Expo Arena. Debuting 10 years ago, those 3 men, Jaejoong, Yoochun and Junsu deliver performances compact with singing and dancing skills.
10 years ago in 2004, a 5-member boy idol group DBSK released their debut track, 'Hug'. They soon rise and become the representative boy group in Korea. However, at the peak of their popularity in 2009, 3 out of the 5 members, Jaejoong, Yoochun and Junsu, filed a lawsuit against their agency SM Entertainment due to their long contract (13 years_ and the unfair distribution of profits. The court allows them to have activities out of SM Entertainment and that is how JYJ is formed in 2010, with their first album 'The Beginning'.
JYJ's latest album 'Just Us' was released at the end of last month after a 3-year hiatus, following 'In Heaven' from 2011. During the time of the group's hiatus, the members focused on their personal activities. Kim Junsu became a musical star and released solo albums, Kim Jaejoong also released solo albums and became an actor in dramas, Park Yoochun on the other hand, acted in both dramas and a movie.
And after three years, the three members received hot welcome from fans. The album received 120 000 preorders and immediately ranked first on Hanteo chart. And on the 9th August, the group filled up all the 30 000 seats of Seoul Jamsil Olympic stations. Prior to their concert in Hong Kong, member Kim Junsu stated, "I was a bit worried about selling out Seoul Jamsil Stadium since it was big. I thought it would be hard, so I was surprised."
Perhaps Junsu thinks that way because they cannot appear on TV as singers. JYJ had never appeared on music programmes before. It was due to their dispute with their previous agency. The allegation was denied by both SM Entertainment and the broadcasters.
On August 2012, the group's legal dispute with SM ends. Their contract was terminated and SM Entertainment was ordered to not interfere with the group's future activities. But even after that, their appearance on TV remains restricted. Their new title track 'Back Seat' was nominated for No.1 in SBS's Inkigayo, unfortunately the group wasn't invited to perform.
Had not appeared in music shows for over 5 years
10 000 spectators gathered…. warm welcome
Like playing with friends on 'Kkaruru'
"Thanks to our fans…. I'll never be tired"
Due to that restriction, JYJ are active. They in particular are active in overseas concerts like in Asia, Europe and South America. They will now embark on a 8-city Asian Tour 'The Return of the King' which started in Seoul. Hong Kong is their first international stop, receiving warm response from 10 000 fans. Member Junsu says, "We did dramas and movies, but we still wants you all to enjoy our live singing. I feel so grateful and I promise to will never tire out."
The 3 men was happy and all smiley throughout the 2 hours and 30 minutes performance. You can see their own color during their solo stage. When Kim Jaejoong takes off his coat, the audiences screams so loud. The members chat with each other, evoking laughters from the spectators. These three man are easily approachable and seemed to be very familiar with their fans.
Since they're facing a rather tough time, those three men relies on each other and as a result becomes closer to one another. Kim Jaejoong says, "We have to work hard individually for the album and our activities. Since this is our first album in 3 years, rather than feeling burdened, we tried our best to insert our own color in the album."
JYJ's final song in the encore is 'Fallen Leaves'. "Under the same sky, the same dream/ The brightness of the stars captivates me/ The song that will be sung again, that day will come, won't it." The lyrics suddenly seems much deeper than it seems.
Hong Kong / Seo Jung Min
[NEWS] JYJ's Kim Junsu, "First place contender despite not appearing on broadcasts, I feel even more thankful"
JYJ member Kim Junsu relayed his gratitude to fans who continue to cherish and wait for him despite not being able to appear on broadcasts.
During the afternoon of the 15th, JYJ participated in a press conference for their 2014 Asia Tour Concert "THE RETURN OF THE KING" in Hong Kong's World Expo Arena.
On this day, Kim Junsu conveyed his thoughts about their unchanging popularity, saying "We are amazed every time as well. I'm not sure if overseas fans saw us through videos such as music videos, but I believe that they haven't been able to see us live in 5 years. JYJ are singers that you cannot see unless you come to our concert."
He continued, "They come to see us if we have concerts overseas, and no matter where we go, the fans always give us a hospitable welcome. We always wonder [how]. It's amazing" and "Of course, they can learn about us through mediums such as dramas and movies, but they can't see us on (music) broadcasts. Others who don't put on concerts can go on broadcasts and gain fans through that, but there is no such stage like that for us. Yet, fans disregard that fact and come to see us at our concerts."
Kim Junsu also stated, "Truthfully, I was surprised about our concert in Jamsil. I thought it would even be better to do a concert five times in a venue with 15,000 seats. I thought it would be hard to fill up 30,000 seats but our fans filled it completely. If we could freely do broadcast activities, we may not be able to feel grateful. Now, I am very thankful and grateful. Even now, if we release an album, it becomes #1 on many charts, so I tell myself that I can't get fatigued, and to work harder."
JYJ's 2nd full-length album became a first place contender on SBS's Inkigayo. However, the ironic part is that they cannot appear on broadcasts. Therefore, Kim Jaejoong stated, "When I heard that 'Back Seat' was under review (ie: banned from broadcast), I thought 'Okay. That's good'. The fact that fans have to come to our concerts to see us perform, don't we have some kind of edge? Even without music broadcasts, I think we can share our music with the fans in a grand concert. Of course, we don't want to compromise with irrationality stemming from external pressure."
JYJ completed their concert in Hong Kong with great success on the 16th. This is the first time in 4 years that has visited Hong Kong as a united JYJ, with the last time being their 'THE BEGINNING' Worldwide Album showcase in 2010. Starting with their Korean concert on the 9th, JYJ will visit Hong Kong, Beijing, Vietnam, Chengdu, Taiwan, Shanghai, and Thailand.
Debuting in 2003, JYJ hold the record of selling over 5,000,000 music records. Their popularity is as prevalent as before and they continue to show the majesty of 'Hallyu-dols'.
from Intoxicated by Xia