To: @roweina78, @yuya, @vzmeiin, @geenvyme, @priti, @vikirosdli, @tealee, @ashmita123, @fourc_pyc, @rodatio2013, @kryzchun, @chat27, @itscreamie, @bluemoonlight, @nycuckoo, @rikreay, @cassie6002, @adobo19kimchi, @ARIAH508,@lolipophead, @lovetoread, @standup4u, @yooade, @suncine445, @yoonyoo, @MZ_Hyunki, @cherrynea,@Heny, @dolphin6002, @nyet2607, @cristurbat, @SherYah, @Iretth, @vinegrace779, @AdenYC, @jjer, @300love, @yinli1302,@elena_mp, @yoochun6002love, @superloren, @JAYwalkers, @Athaya, @yogafan, @klent, @Iris, @mimilau, @angiepark6002,@Julie Christiani, @akri0816, @neknarf, @mrsbae, @ababe Rachel , @henzel, @kkyh84, @karyl_star, @alexapark, @pangia, @chippacket, @gaban, @bangors6oy1, @jaejoongonekiss,@mihaeleni, @thsbllx, @irilight, @xiahtic5, @soleluna, @neknarf,@lucytails, @nicejoOngie, @michaelmarquez, @minminsarang, @willenette, @jenknight18 @mcsarangyeh @sunshine4ever
HELLO LADIES AND GENTLEMEN (if there is any lol),
Here we are back again with our newest edition of our JYJ Caffeine Magz Fourth Edition. This time it's me who's posting this as this is gonna be the last time for me to participate. So I have this honor from BOSS to post it on behalf of RYZ and JYJ Caffeine. Oh yea in this edition i contributed the least, sorry for that cos i can't commit really well this time as i am too busy with work and college stuffs. This edition is focusing on all the three members of JYJ since the last 3 editions we already had YC, JJ and JS editions, and the main theme is about FREEDOM. Not forgetting to all who contributed for this edition, @geenvyme @vikirosdli @tealee @priti and @vzmeiin as usual the graphic designer, THANK YOU VERY VERY MUCH FOR YOUR CONTRIBUTIONS, VERY MUCH APPRECIATED!
This edition is also to celebrate our boss' birthday, none other than @roweina78 on this blessed day of December 4th, 2013, so that's why the theme for this edition is purple all the way as many of you know how much boss loves purple. And she is also obsessed with number 7, so this edition is gonna be split into 7 parts, and this is also the reason why i choose to post this at 7pm (Indonesian time of course, cos boss is from Indonesia). oh yea also number 4, her only similarity with ChunNi, they both have same date of birth which is on 4th, but of course the month and date are different. So bear your eyes with purple color while reading this yaa. Hahaha...
All the contents written are from our POV only, you may agree or disagree with it. Any feedback are much advanced appreciated. So enjoy reading!!
So let's begin with Part One, it's containing, as usual the foreword from the main editor and also section
"ALL ABOUT ROWEINA"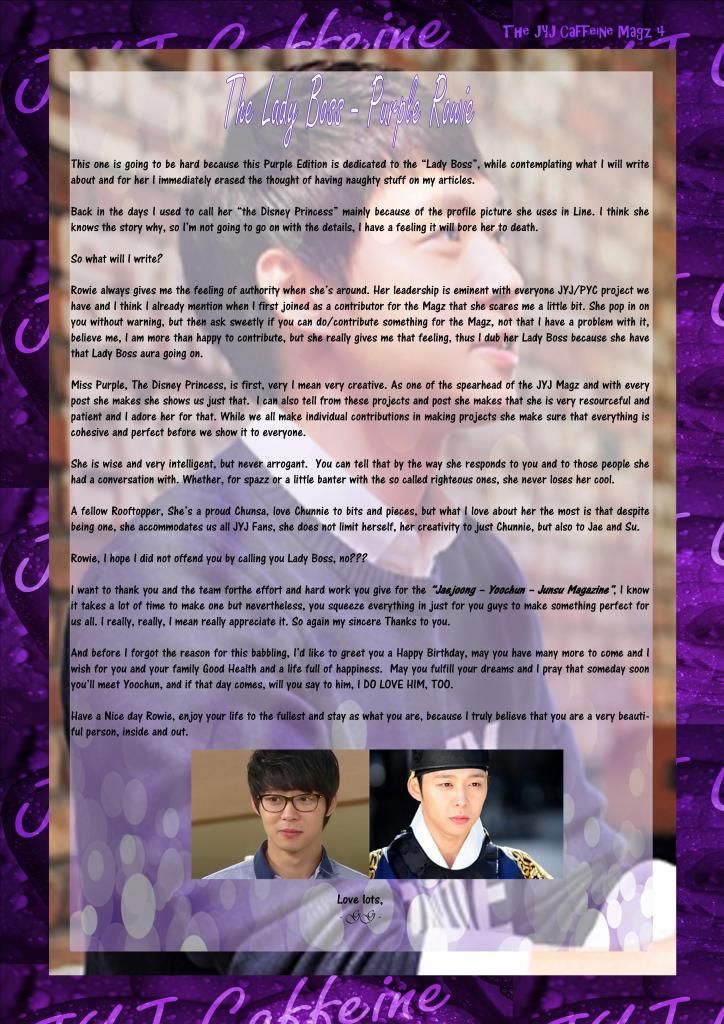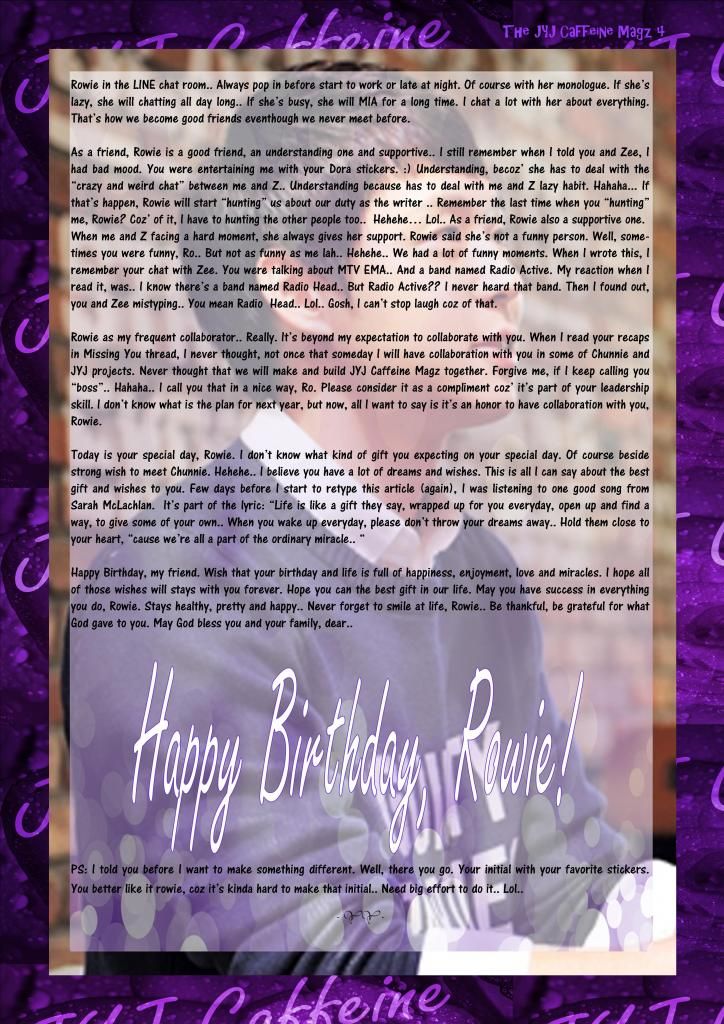 Ro please excuse me as i take this opportunity to post this article ok? So this is a special article from me for Yuya, the main editor and the biggest contributor, because during her birthday there was no edition released so I owe her one article of what do i think of her. So here you go Kak Yuya, this is actually my surprise for you. I didn't write about RYZ generally actually, but i wrote it specifically for both R and Y. Enjoy
:)
Last one, I wrote this as my sincere appreciation for my beloved LINE buddies. RYZ and JYJ Caffeine sistas
This is the birthday video as a gift from JYJ Caffeine to our dear boss Roweina..
There was technically error for the vid, U can watch it on here:
Part TWO, about our beloved JYJ..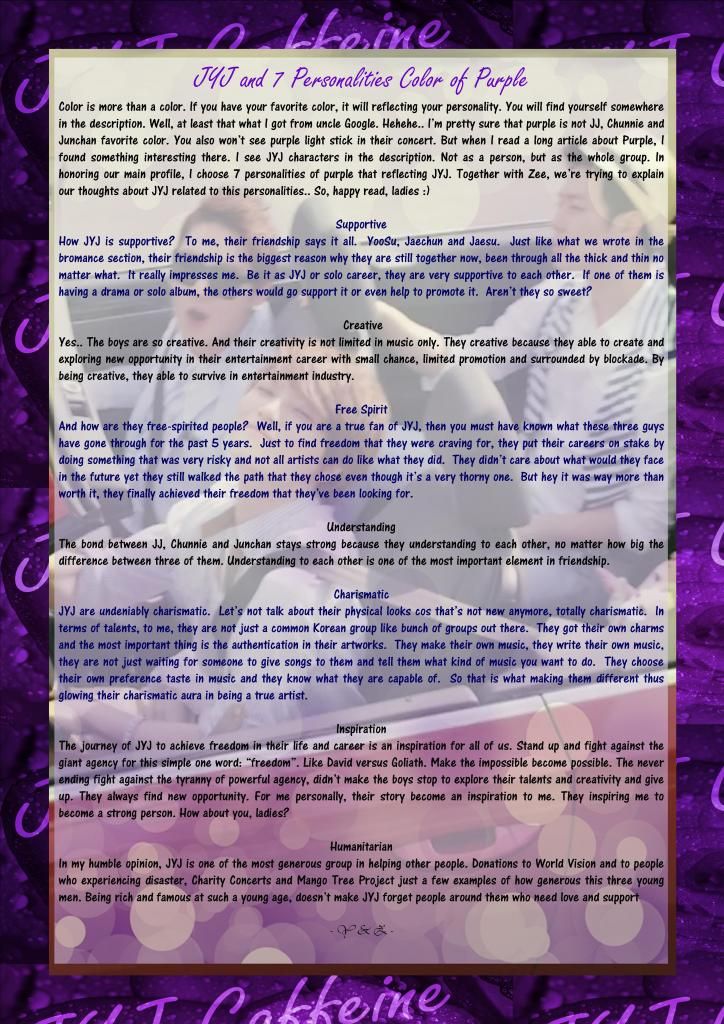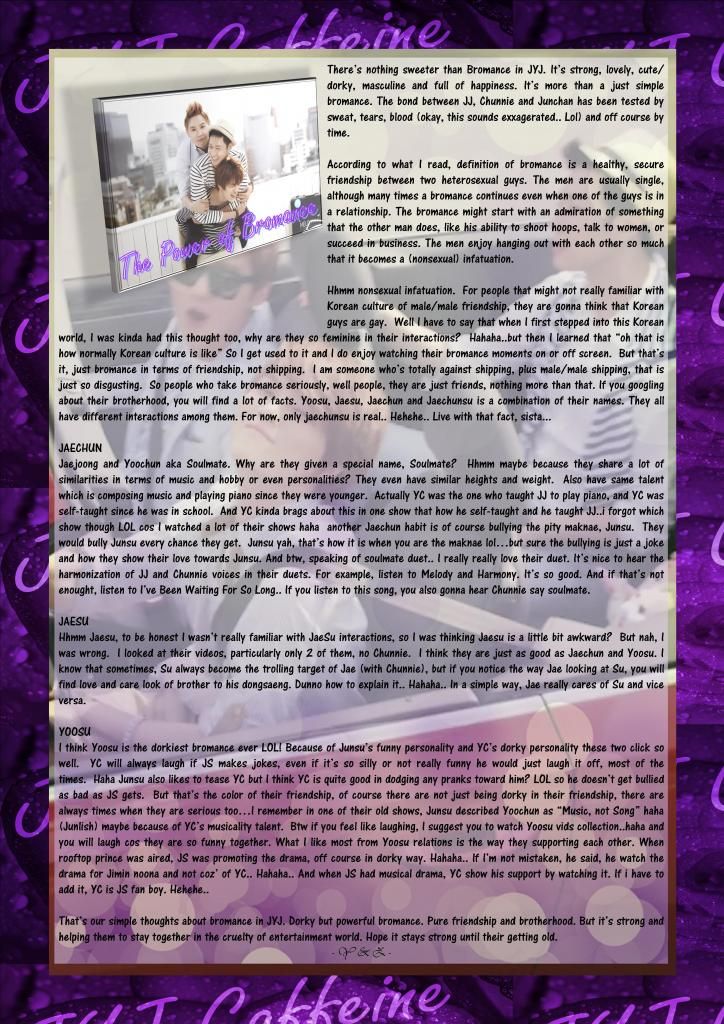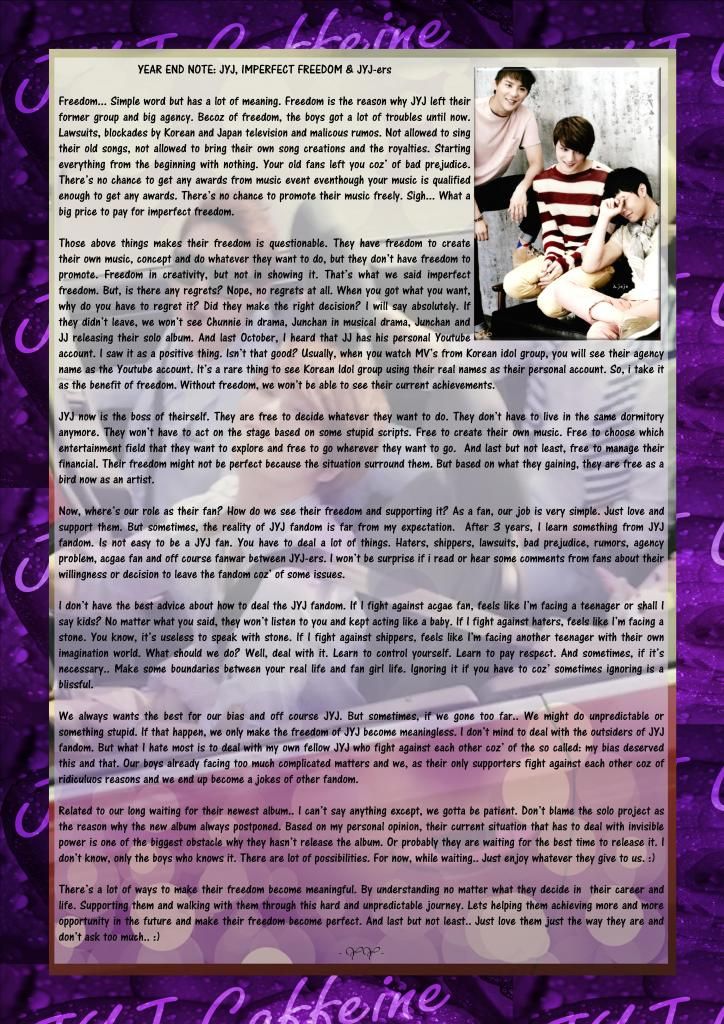 Part THREE, dedicated to our beloved hyung, KIM JAE JOONG..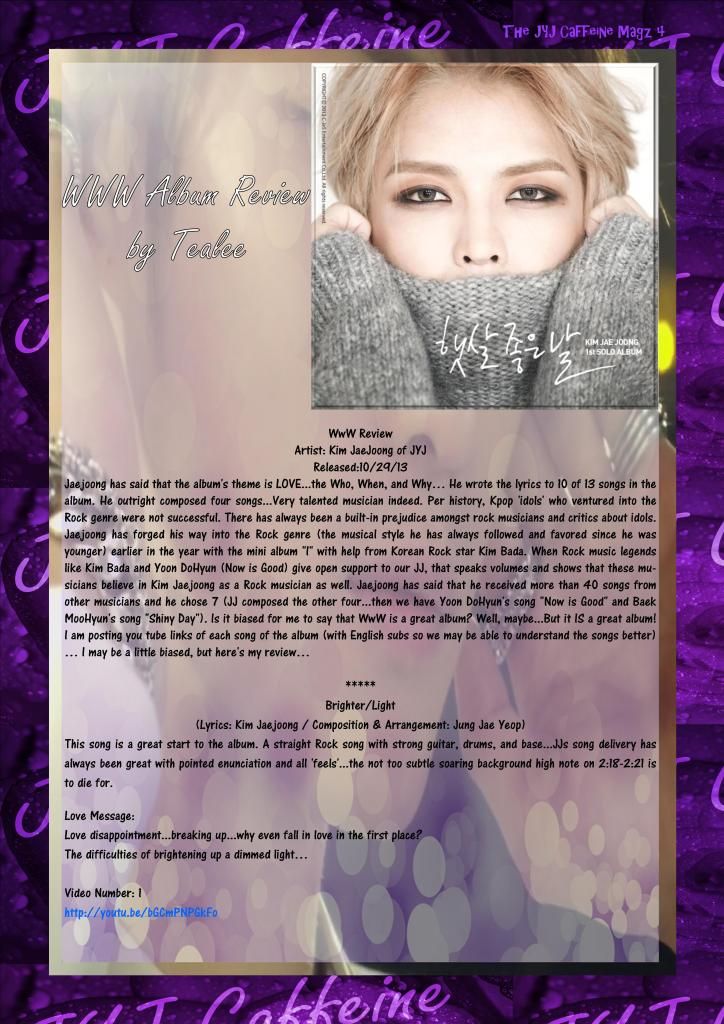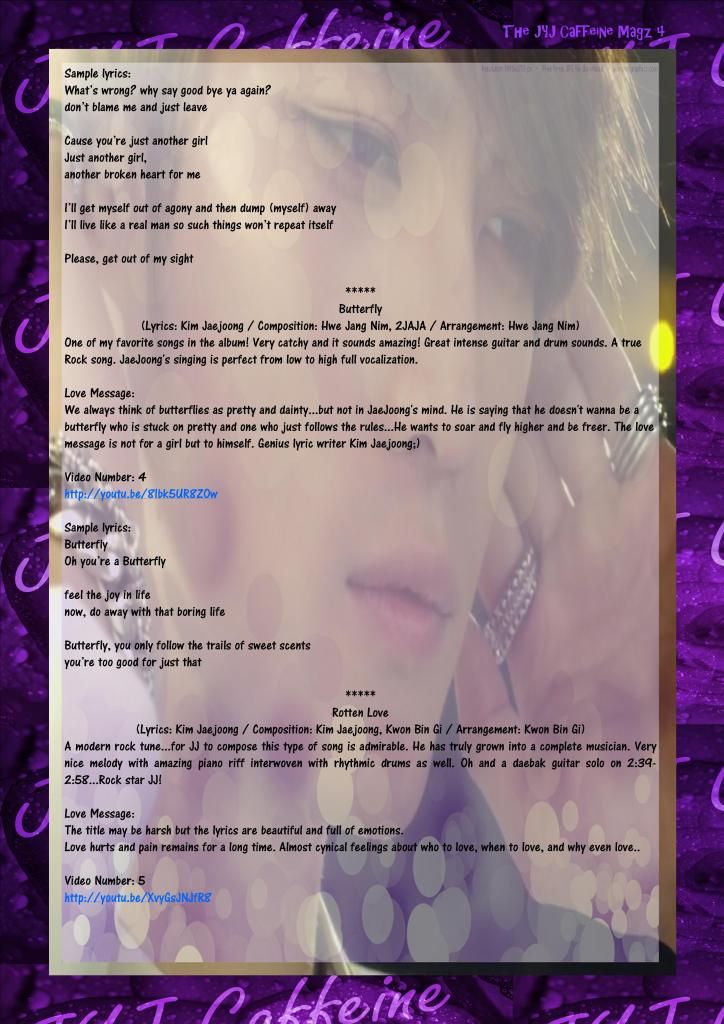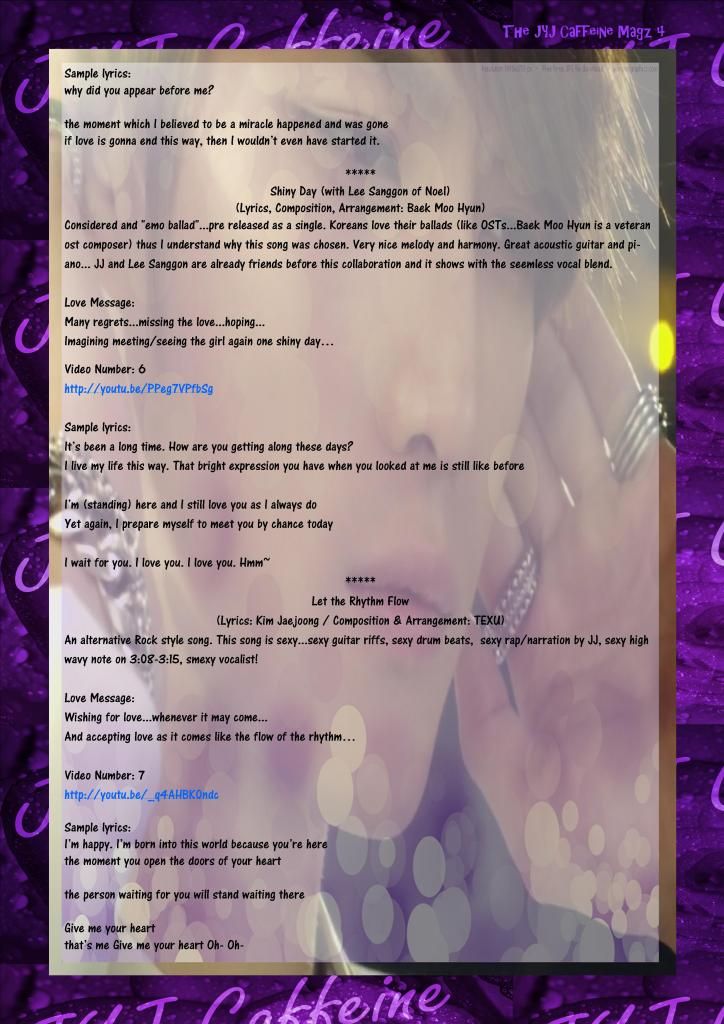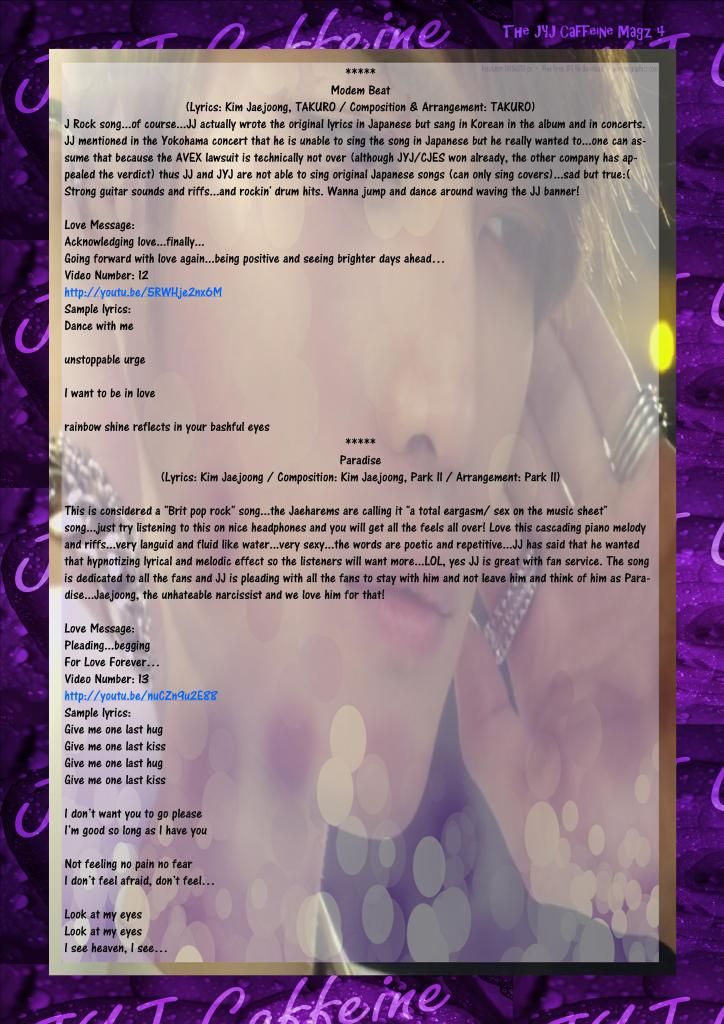 And here are the links for the vids :
1.
2.
3.
4.
5.
6.
7.
8.
9.
10.
11.
12.
13.


Part FOUR, dedicated to the adorable PARK YOO CHUN..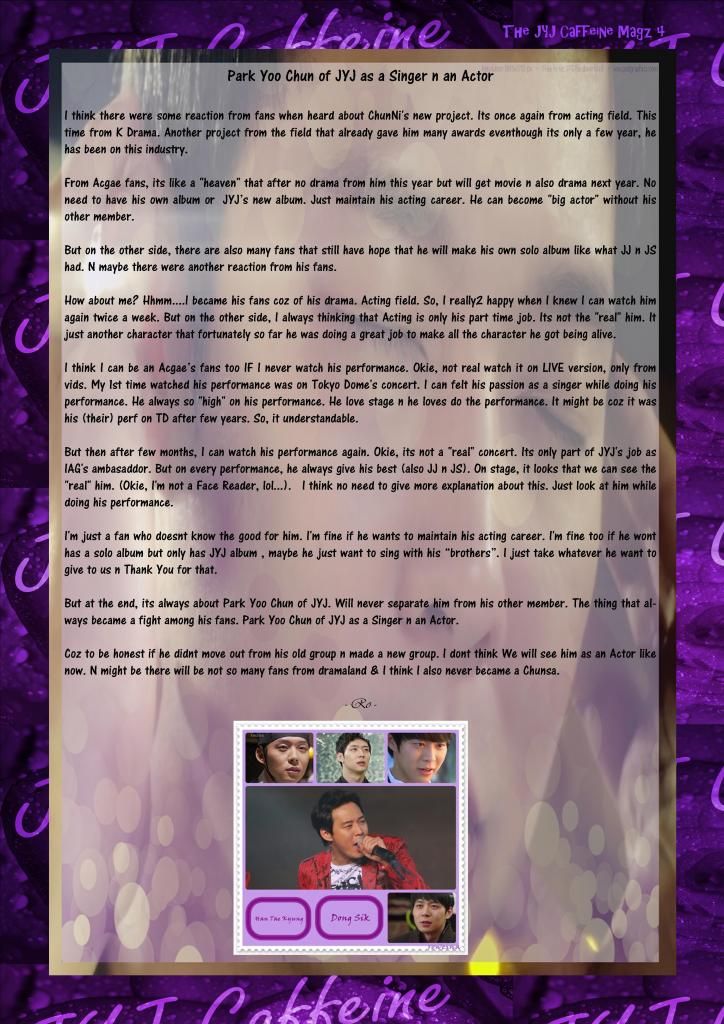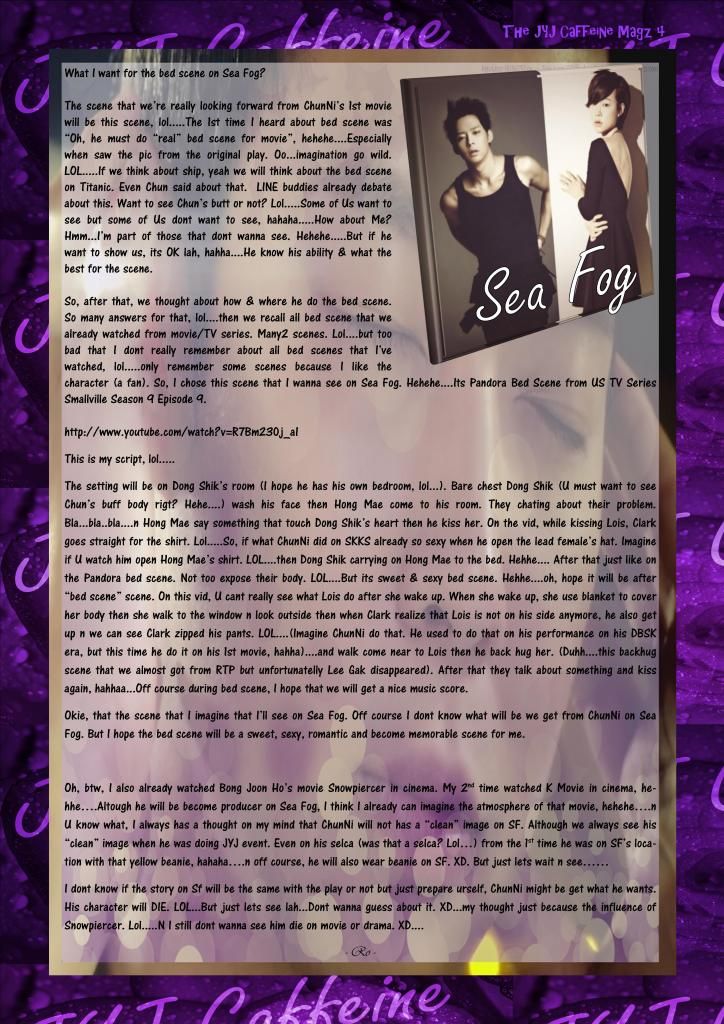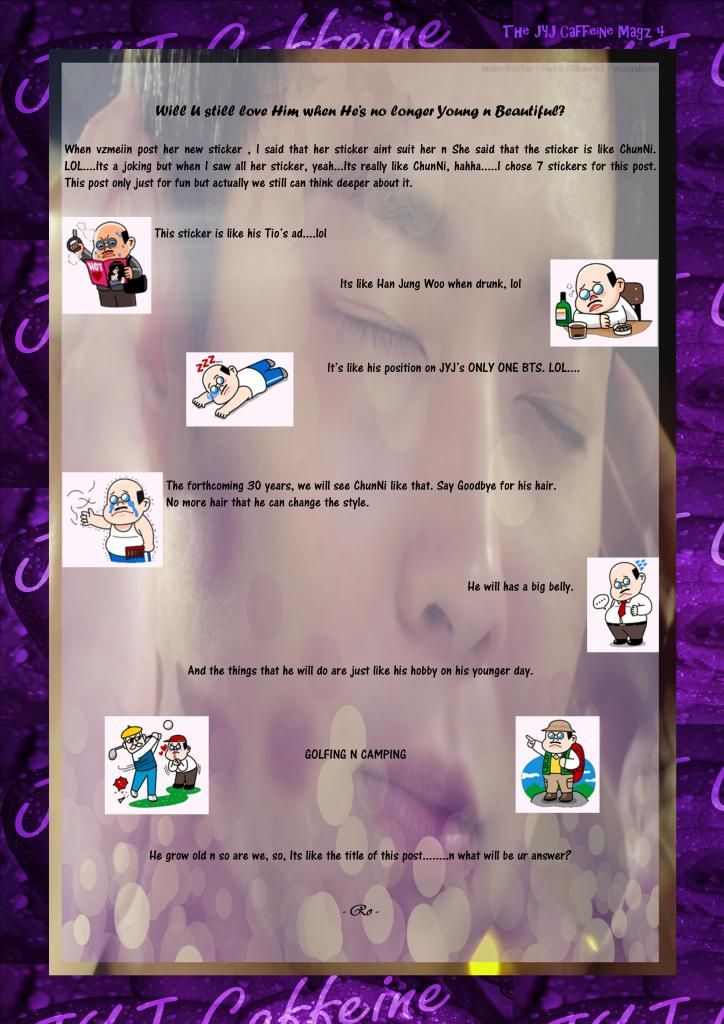 Here is the link to the video of the scene that Ro wants for the bed scene in Sea Fog..it's a scene from Smallville..enjoy LOL