Updated (8/17/14)
Hello Asia! Theatre Review: The Musical Dracula - Seoul Arts Centre, South Korea
July 21, 2014 - 7:53pm — Kat Czornij
Since it's announcement back in May I told myself that I needed to somehow, in anyway, get myself to Seoul to see the Korean production of The Musical Dracula. Dracula has always been one of my favourite musicals, as a brilliant mix of all the drama of The Phantom of the Opera and all the darkness of Jekyll and Hyde. It was then announced that it would be produced by Shin Chun Soo, one of my favourite musical producers, who would be writing new songs for the Korean production. And then it was announced that the lead of Dracula would be shared between Ryn Jeong Han and Kim Junsu. Yep, I had to absolutely see this musical.
So I ended up seeing it twice. And it was absolutely as amazing as I had imagined.
The story, for those who do not know, follows the Bram Stoker novel telling of Count Dracula and his passion for the beautiful Mina Murray. Dracula is looking to move to a new location for fresh prey, and Jonathan Harker has been trying to help him with the real estate. Mina enters as Harker's fiance, to whom Dracula immediately falls deeply in love with. Mina reminds him of his lost love Elisabeta. The story reaches it tragic end when Dracula asks a now mutually in love Mina to help him die, giving him "back to darkness" in order to keep her in the light.
Tears. Let me tell you tears were shed.
For the sets alone, Dracula was a spectacular production. I think throughout the entire show they hardly reused a set. The stage was massive, much larger than any stage I have seen before- in height, width and especially in depth. The floor was a mix of giant revolving plates and moving panels that cycled through the sets with ease. During one particular scene the large 'wall panels' are rapidly moving in and out as the cast hunts down Dracula through the mayhem.
The lighting effects added an incredible depth to the stage, and helped with creating those dynamic multiple sets. Strong projections coloured the strong walls- turning them from Dracula's fortress to a bright London. There was an emphasis on the colour red, naturally, and scenes are often "blacked out" completely in the colour.
Silhouettes of Dracula were also projected, interacting with the characters who hear "his voice in their head". The silhouette was so brilliantly done that it almost hard to make it out as video of the lead actor until you recognise the distinctive movements.
And then the sound! The orchestra is encompassing and the rich full sound makes each scene larger and much more intense. Both in my floor seat and balcony seat the sound was perfectly balanced and I could hear each minute detail in Wildhorn's breathtaking score.
But all this would mean nothing if your cast wasn't at a level to support it, and the casting of this production was perfect. Despite being a fairly small cast of 20, they create the sense of a far larger team. Voices match and interweave perfectly with each other, creating harmony and support as required.
Kim Junsu. Honestly I don't think I can imagine anyone who would be able to embrace the role of Dracula in the same way as Junsu- his unique rasping voice, his prowling sexiness and agility, and his absolutely incredible ability to hit the most soaring notes is second to none. Time and time again Junsu is proving his standing as not only Xia, but now as one of Korea's premiere musical actors. The moment of transformation from the old Dracula we are first introduced to, to the reveal of the leather clad Junsu is... Heart stopping to say the least.
If I had time I would have gone to an additional third viewing to see Ryu Jeong Han, as a fan of his as well I would have loved to see how he depicted the role. Interestingly this is the second time he and Junsu have shared the role of a dark and seductive being- the first being the role of Death in Elisabeth.
I was able to see both Cho Jeong Eun and Chong Seon Ah in the role of Mina, and both were so equally suited for the role. Mina is exudes a almost conflicting sense of both sweet innocence and strength of mind. Their rising vocals hold strong and pure against the huge sound of the orchestra that they may have needed to compete with. Her match in Harker (again I saw both castings of Kai and Cho Kang Hyun) was well balanced, with his strong deep voice supporting her higher range and reinforcing their partnership.
A bit of a surprise to me was how much I loved the roles of Renfield and Lucy. Played by Lee Seung Won and Lee Ji HyeIt respectively.
Renfield manages to conjure just the right amount of insanity, blindless loyalty and commanding vocals. He's brilliant.
Lucy, who could quite easily disappear under Mina, stands on equal footing. To me the role of Lucy was almost a second female lead. She is adorably clueless and once converted to one of Dracula's wives, she is sexy and insane. Her solo 'The Invitation' was one of my favourite pieces. Lee Ji HyeIt's beautiful voice called to Dracula and the audience, inviting them to her.
The staging of Dracula's wives as they crawl from various ground locations across the stage added to the dynamic of the stage. They first awake from coffins at the front of the stage, embedded within the bed of the stage itself, and then they explode from ground locations and crawl in from sides throughout the production. Their sexy, prowling dance movements as they travel about the stage are chilling and seducing.
Producer Shin Chun Soo's new songs 'Last Man Standing', 'She' and 'Nosferatu Recit' are added seamlessly into the repertoire. I sincerely hope they release a recording of this production so people will be able to not only hear these fantastic new additions, but finally hear a full recording of the musical.
Something that really set Dracula apart for me was the strength of the storytelling even through the language barrier. Truthfully I am very familiar (all of the lyrics familiar) with the Cast Recording of the original Broadway musical, so that may have helped, but I truly felt the power of what was being spoken in the portrayal of actions and the feeling in the voices. I knew exactly what was going on at all times, and I knew exactly the emotion of the character. This sometimes doesn't happen for me even in English spoken musicals.
My favourite scene was when Dracula tells the great story of his love in 'She', one of Producer Shin's new additions. It is heart wrenching and the strength in which Dracula howls his despair and loneliness, cursing the world for its cruelty, really reaches the audience. The piece opens in hope as Dracula tells of a time when he is admired and a follower of God's will. He falls deeply in love with a beautiful and innocent woman called Elisabeta, but they are torn apart through war. Reunited, they embrace, only to have her throw herself into the dagger meant for Dracula. And Dracula SCREAMS. The sound echoing throughout the deathly quiet theater. He stabs the attacker and returns to the arms of his dying love, who clutches at Dracula until her body becomes still and lifeless. Dracula begs her not to leave him, wailing his grief. Red light begins to cover the stage, spreading out like the spill of blood. Dracula has turned mad, he stands and grabs the dagger that has now taken two lives. Leaping onto the church altar he stabs at the betraying cross in the midst of the climatic music. He buries the dagger deep as the blood red light completely embraces the stage. The colour drains, and we return to our present time with a shocked Mina, as Dracula takes her hand and seals the new hope for light that he has found in her.
This song is pivotal. Not only are we given insight to Dracula, but it begins to change the audiences perception of this so called 'monster'. As Director David Swan says "people are never all good, or all bad... What kind of monster would any of us become, to what lengths would we go, to what depths would we sink, to fight for the things that are most important to us?"
Dracula was adapted from the original broadway musical for the Korean stage, which naturally means there are slight alterations to the music, lyrics and characters that I find immensely interesting. I managed to get a hand of the translated lyrics for 'Loving You Keeps Me Alive', one of my favourite pieces. In the original Broadway version the lyrics are Dracula's persuasive urging to Mina to come to him and forget Harker- "Loving you keeps me alive/Think again before you leave me/For his love could never be as true/As the love I offer you". The lyrics for the Korean version however, depict a more sentimental Dracula. He asks Mina not to leave him as she is the "single silver lining in (his) empty life". He desperately begs to Mina, "You are the reason of my life/My first love, who gets me to live/The love that even the time couldn't erase". In this new Korean production, Dracula is not afraid to show his desperation in the face of love. He is not weaker in character for it, but rather demonstrates this interesting contrast between the commanding heartless Dracula we are introduced to, and this new more dependent being who craves warmer feelings than the coldness the world has shown him. Again we question whether Dracula is truly the monster he is called.
The Musical Dracula was completely and utterly captivating. The staging, acting, music and costumes were enthralling, pulling you into Dracula's strange dark world in a very sexy and very breathtaking way. The quality of the production was incredibly high, potentially the most well staged musical I have seen (including productions on Broadway). If you have any chance to see it, then I urge you to go. I only wish I could see it yet again.
Dracula, I would embrace your endless night.
For coverage of 'The Musical Dracula' Press Call go here.
You can also see the full photo gallery from the Press Call here.
Dracula is showing at the Seoul Arts Center, Opera Theater from the 17th of July until the 5th of September. The reviewer attended the performance on 17th and 19th July.
http://www.sac.or.kr/eng/program/view.jsp?seq=18158&s_date=20140715
[Herald Review] 'Dracula': Blood, love and a red-haired Jun-su
Musical adaptation of vampire love story is full of spectacle, but lacks dramatic clout
Published : 2014-07-24 20:53
Updated : 2014-07-24 20:53
More than two hours before showtime on Wednesday afternoon, Seoul Arts Center's opera theater was already brimming with people ― predominantly young women.
The kiosk that sells official souvenirs had a long line, although it wasn't open yet. The manager at a lobby cafe shared how her business was booming thanks to the early birds, many of whom munched on sandwiches and muffins at her shop while waiting for the show to start.
Much of the enthusiasm might be attributed to K-pop group JYJ member Kim Jun-su, who plays the role of blood-sucking Count Dracula in a musical adaptation of the famous vampire story. But the 27-year-old star alone couldn't have generated all that excitement.
Kim Jun-su (front, right) plays Count Dracula in the musical "Dracula," which opened last week at Seoul Arts Center. (OD Musical Company)
Frank Wildhorn's "Dracula, the Musical" opened here last week amid much anticipation.
Shin Chun-soo, president of OD Musical Company, and the creative team behind his 2004 production of "Jekyll & Hyde," the first musical composed by Wildhorn, reunited for "Dracula," aiming to set off a musical boom just like they did a decade ago with "Jekyll."
At a press conference Tuesday, Shin was apparently buoyed by the positive reception from the audience. He described his work as a brand-new show getting a world premiere rather than just a revival of an existing musical, the 2004 Broadway run of which received scorching criticism.
"This production is special for me. I pushed my creative team to the limits and, of course with the help of an exceptionally talented cast, I think I am satisfied with what I now present to the audience," he said.
Based on the Gothic horror novel by Bram Stoker, the musical follows vampire Count Dracula, played by Kim in the Wednesday matinee performance, as he lusts for new blood and love.
Set in Europe at the end of the Victorian Age, it begins with the arrival of Jonathan, an earnest London solicitor, at Dracula's castle in Transylvania, Romania.
Dracula, then aged and decrepit, meets Mina ― Jonathan's fiancee ― and immediately recognizes that she is the reincarnation of Elizabeth, his love from 400 years ago.
Determined to win her love, Dracula drinks Jonathan's blood and regains his youth. With the powerful tune "Fresh Blood," Kim transforms into a red-haired, red-eyed, young Dracula.
The first act aptly builds up the drama toward the impressive finale "Life After Life," where Lucy, Mina's friend, falls prey to Dracula's spell and is reborn as a vampire.
The second act is less convincing ― rather disappointing ― with Mina's abrupt surrender to Dracula and again an abrupt ending that strays from the novel.
Most memorable is Kim, who evokes a strange charm throughout the show as the infamous vampire.
With a boyish face and slender physique, he's not the typical charismatic Dracula that people would expect. However, he pulled off impressive performance as a prone-to-necking supernatural creature in front of his prey, but looked only so human in front of Mina, blindly seeking her love.
Opposite Kim, musical actress Jo Jung-eun nailed the role of Mina both in singing and acting.
The set and visual effects do wonders for the musical.
A rotating stage is nothing new these days, but the show pushes the limits of what revolving stage technology can achieve.
It is truly jaw-dropping when four turntables on the stage spin quickly in opposite directions ― two clockwise and the other two counterclockwise ― to create chase scenes. Characters wander around within the spinning sets, running from one to another.
The use of light to create shadows and contrast, often preceding the arrival of Dracula, is impressive, too.
With music written by Wildhorn and lyrics by Christopher Hampton, and directed by David Swan, "Dracula, the Musical" runs until Sept. 5 at Seoul Arts Center.
Veteran musical actor Ryu Jung-han alternates with Kim as Dracula. Jung Sun-ah, who recently played Glinda in "Wicked," shares the role of Mina with Jo.
Ticket prices range from 50,000 won to 140,000 won. For details, call (02) 580-1300.
By Lee Sun-young (
milaya@heraldcorp.com
)
3 reasons why Kim Jun-su makes a perfect 'Dracula'
Published : 2014-07-21 10:30
Updated : 2014-07-21 10:33
The curtain rose for the musical "Dracula" on July 15. Among the cast, Kim Jun-su, a musical actor and a member of the idol group JYJ, is gaining the most attention.
A local news report suggested three main reasons why Kim Jun-su's version of "Dracula" is the most eagerly awaited.
1. Dark atmosphere
Kim Jun-su already has experience in showing a character's dark atmosphere through the musical "Elizabeth." Kim also succeeded in expressing the complicated character of Dracula, who expresses both dark cruelty and innocent love toward Mina.
2. Voice
Kim Jun-su has his own voice, which makes his performance outstanding. His husky yet delicate, soulful voice captures the audience's attention.
3. Balance
Kim Jun-su has worked with Jung Sun-ah, the lead actress, who plays Mina, in the popular musical "Mozart." The balance and harmony of Kim and Jung will once again make the performance better than ever.
The musical "Dracula" is to be performed until Sept. 5 at Seoul Arts Center.
By Kim Min-jin, Intern reporter (minjin103@heraldcorp.com)
From The Korea Herald
[Photo Credit: OD Musical Company]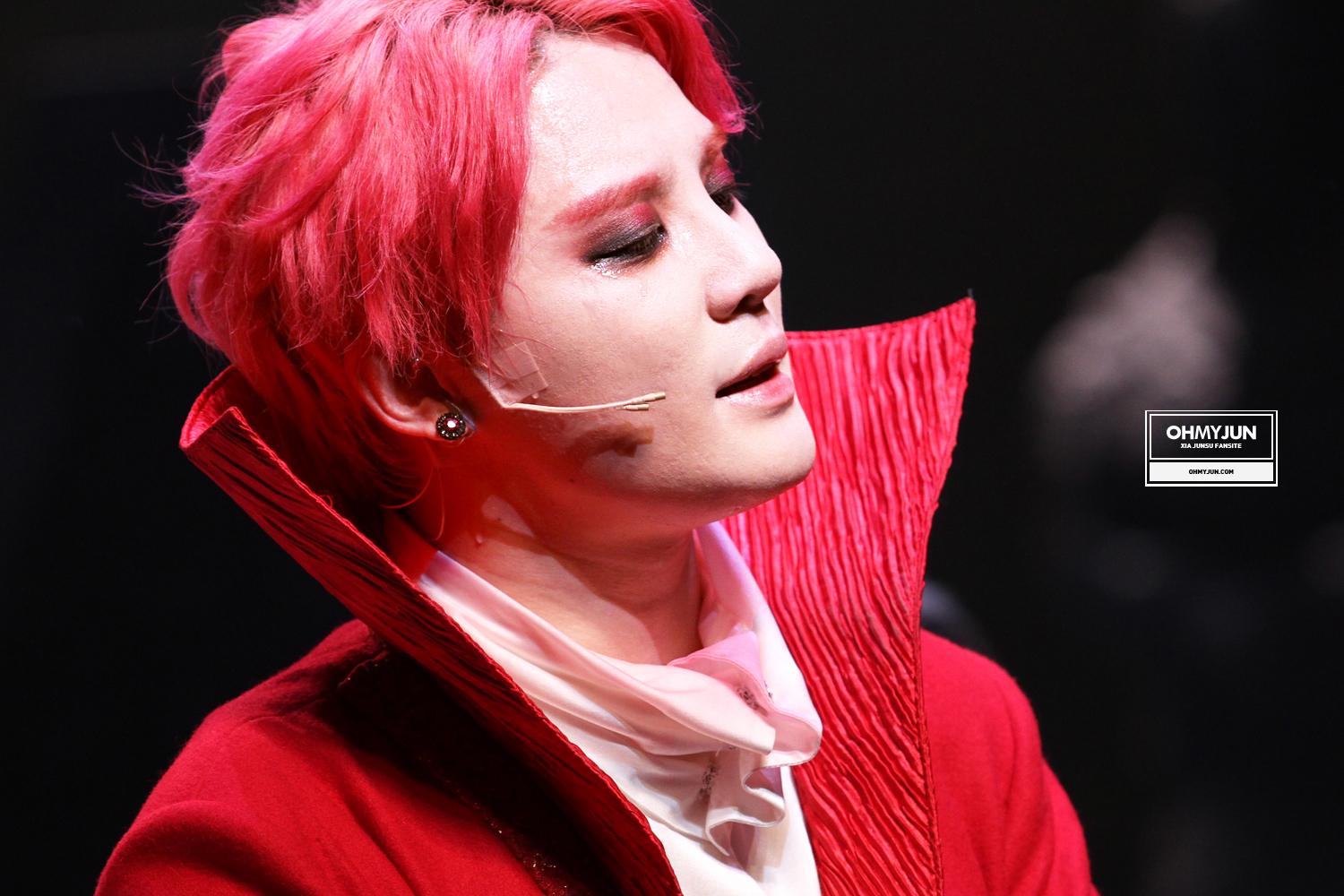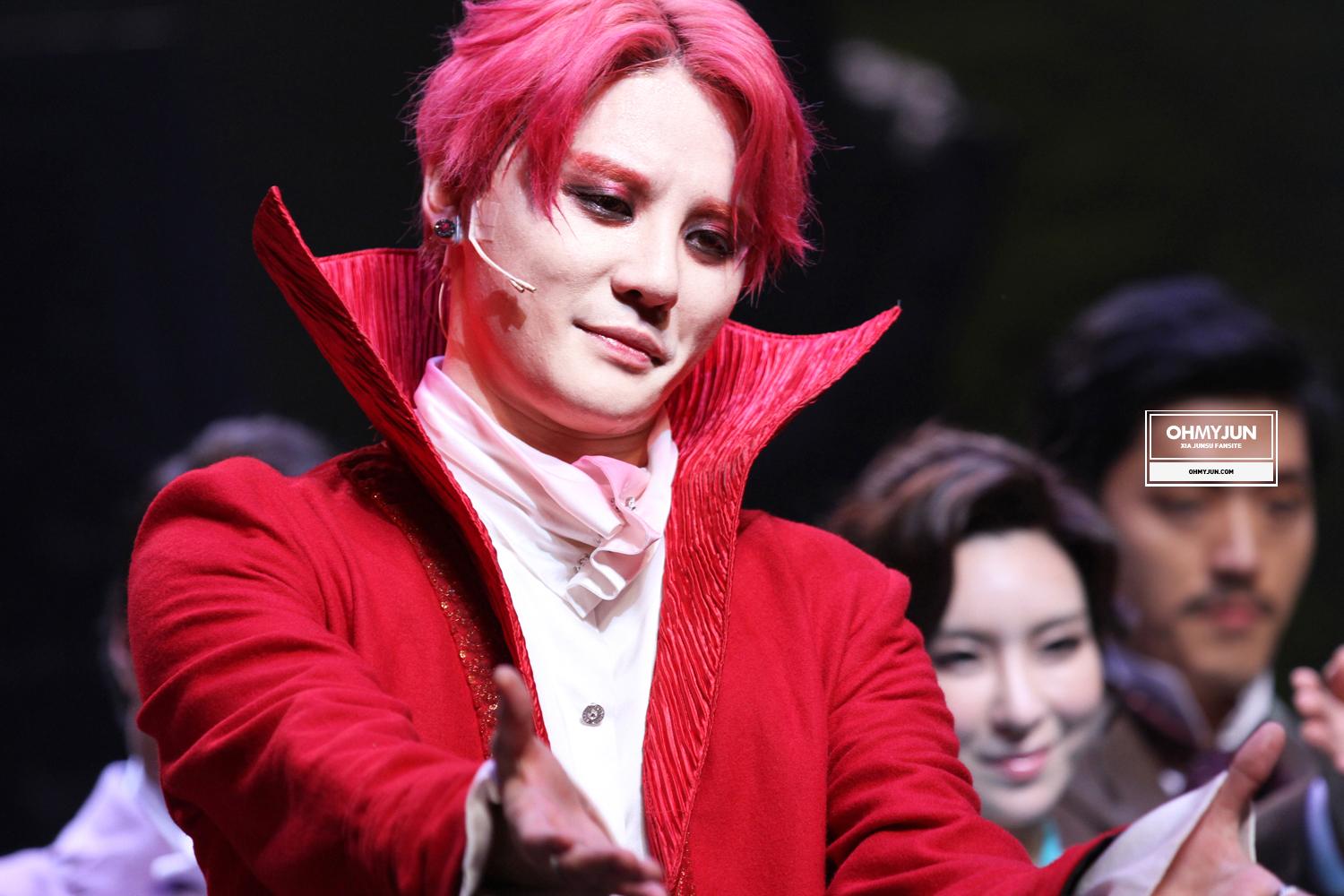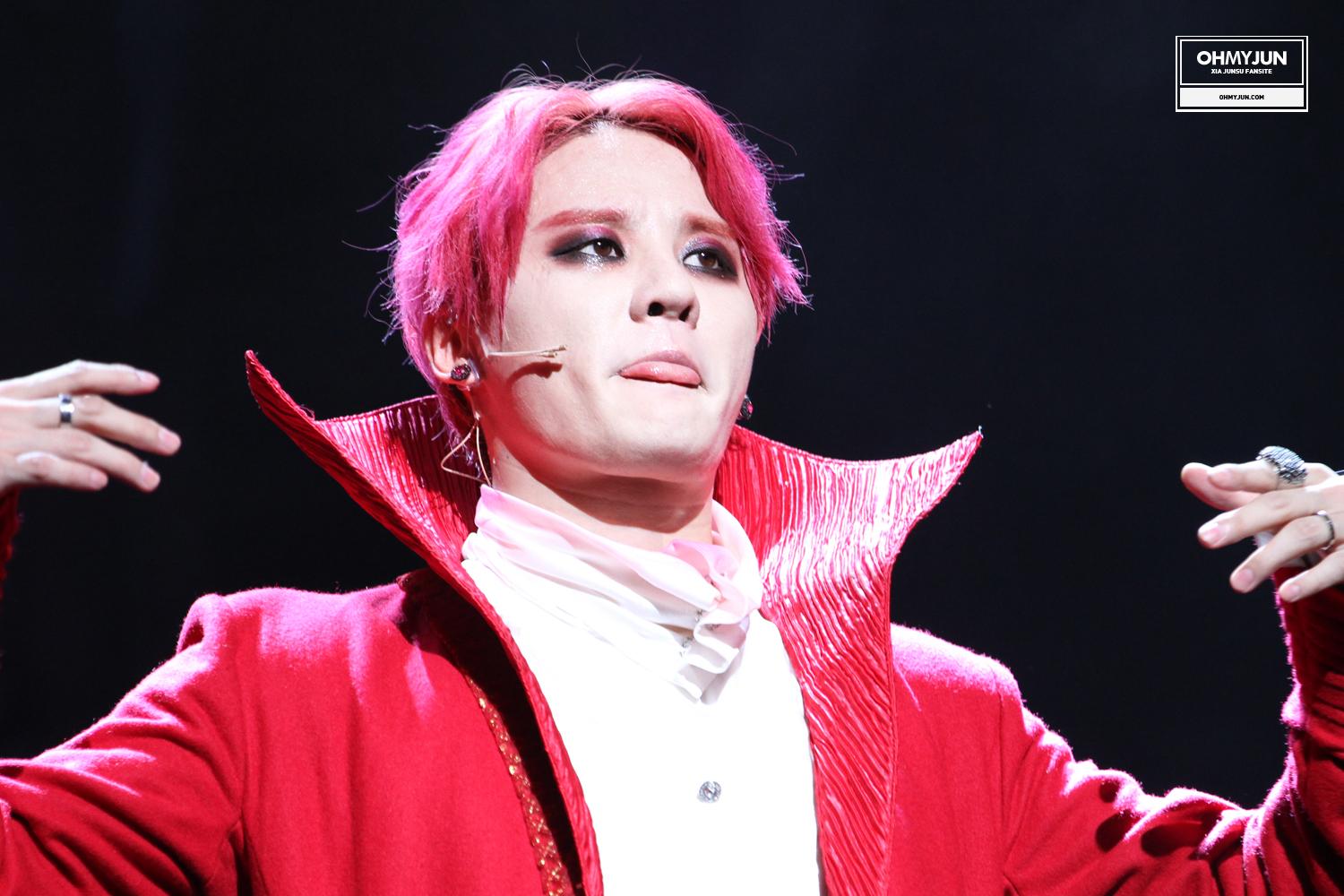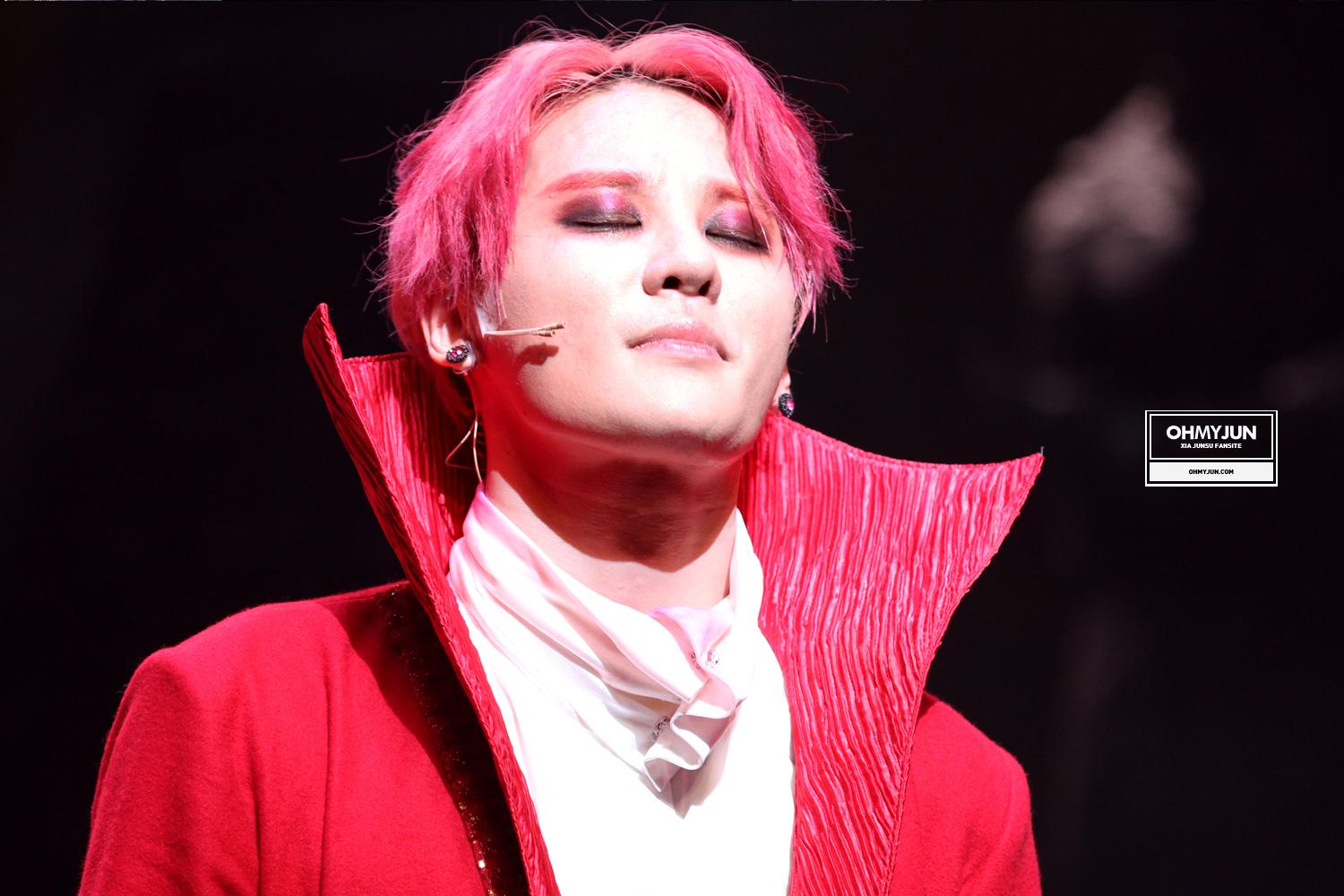 pics as tagged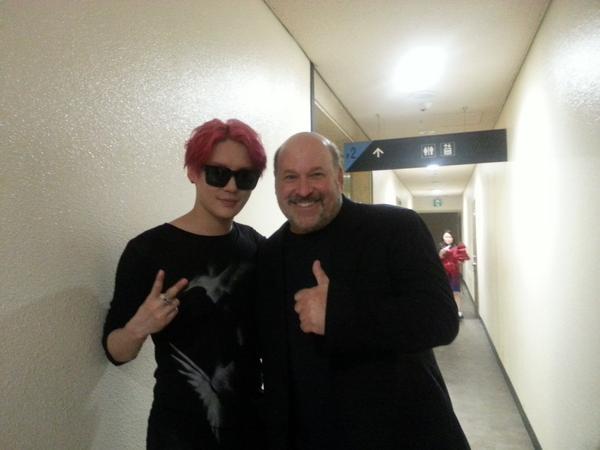 Junsu with Frank Wildhorn (Composer: Dracula, the Musical and Jekyll & Hyde)