Sea Fog/HaeMoo
Promotional Press Conference
Press Pictures
As Tagged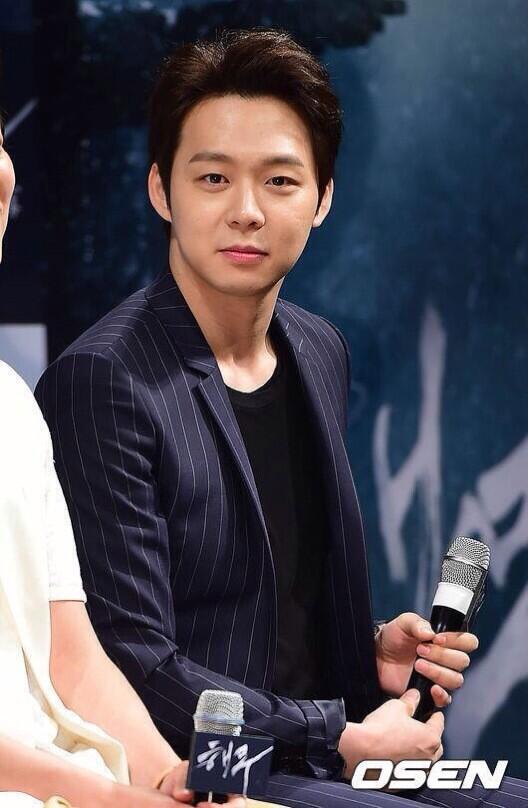 Sea Fog/HaeMoo
Promotional Press Conference
Press Pictures
As Tagged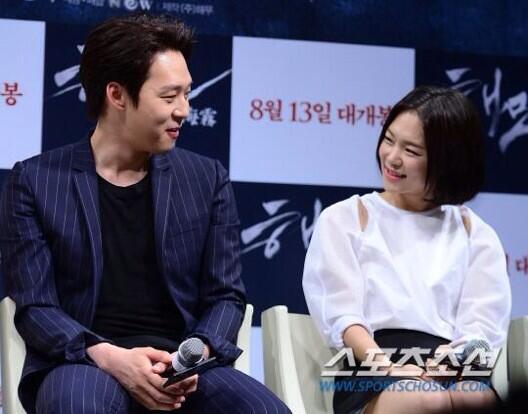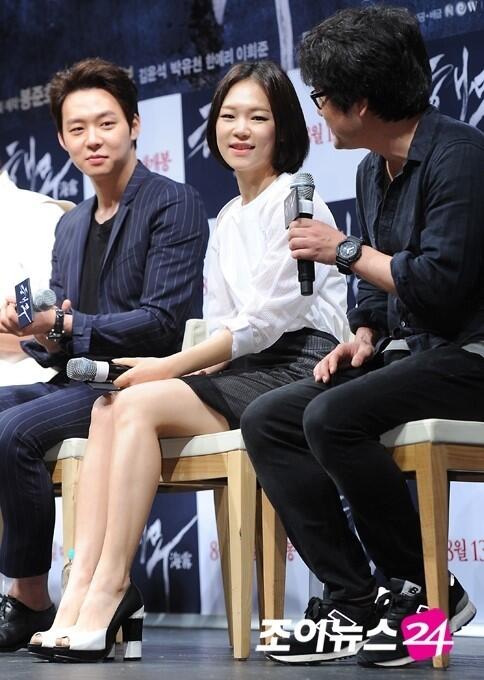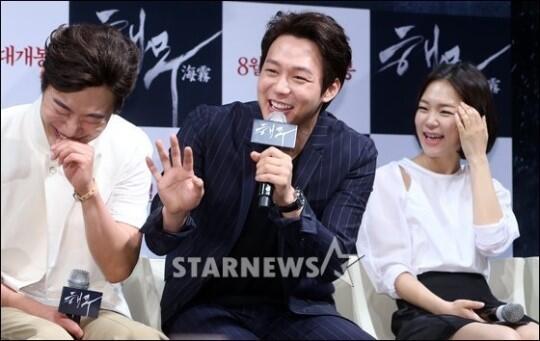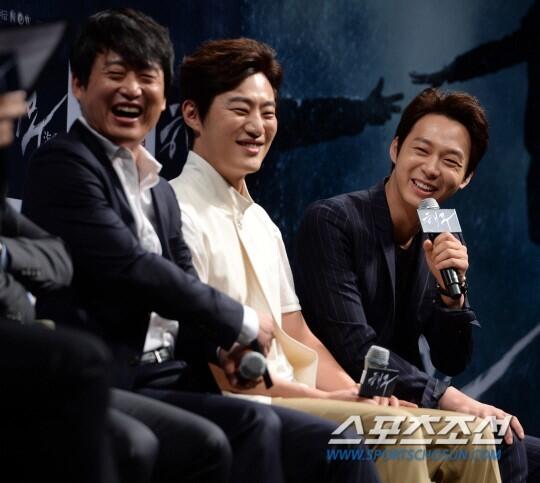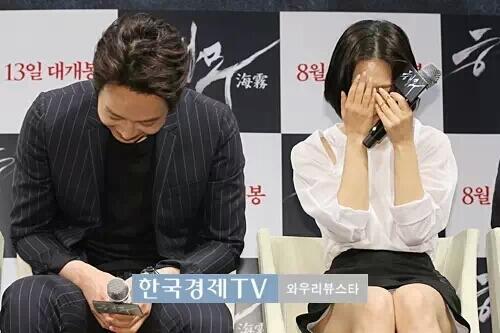 "Yuchun does not complain when he's injured. But when treating his wound, we were surprised to see he was badly injured," Kim Yunseok.
Yuchun, "It's not just me alone but all these seniors were involved in the filming too. We were immersed in the atmosphere of filming that we can't think of anything else. After filming ends, the pain comes. Seems like we don't feel it when filming."
Kim Yunseok explained that the sitting order at the press conference today was according to the ship crew members' position/rank. Kim Yunseok himself is the ship's captain. Kim Sangho is the chief officer in charge of the ship's equipments (aka boatswain). Next, Yoo Seungmok. Chief Engineer, Lee Huijun. Then the youngest crew member, Park Yuchun.
Yuchun, "During the early stage of filming Three Days, because of the walking style and dialect (from Sea Fog) there were many NGs."
Yuchun "I put on a distinct suit (in Three Days) but it was like a person mismatched person wearing a suit so I felt clumsy."
Yuchun, "I had a lot of motion sickness pills. I am always given motion sickness pills prior to filming. I was so poisoned (addicted) by motion sickness pills to the extent that even when I'm on land, I'm still looking for those pills."
·
박혜리 · yochwennie
·
Media Reports...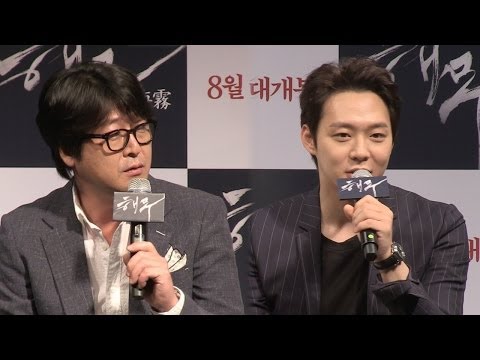 MediaVOP
OBS News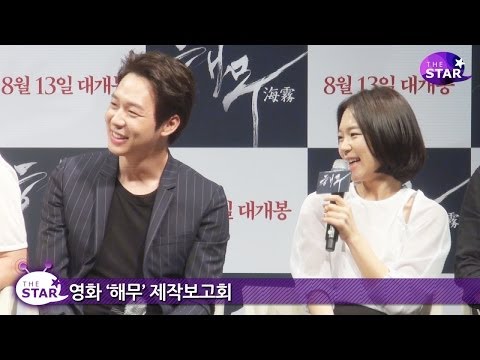 The Daily
[Spot] Rising Chungmuro Rookie Park Yoochun in Movie 'Sea Fog' Praised by Bong Joon-ho
On July 1
st
, the press release for movie <Sea Fog> was held at CGV Apgujeong in Gangnam District, Seoul. The event was held with the participation of Kim Yun-seok, (Park) Yoochun, Lee Hee-joon, Moon Sung-keun, Kim Sang-ho, Yoo Seung-mok and Han Ye-ri and director Shim Sung-bo. <Sea Fog> is a movie about 6 crewmen who go sailing in the hopes of returning with a full load of fish. They get involved in an uncontrollable event as they take on stowaways.
Yoochun plays 'Dong-sik', the youngest crewman on ship. Director Bong Joon-ho, who is the producer of the movie, praised Yoochun, saying "We have a new actor full of potentials in Chungmuro."
Yoochun said, "I still feel very nervous. I have never felt this before to wait for the release of the movie after filming a movie."
Yoochun, who has been a great actor for many dramas said, "I had really bad motion sickness. I took pills for nausea even on land," explain about the hardship of shooting the movie.
About playing a crewman, he said "We try on movie costumes before filming. When I wore costumes, staff members laughed at me. I talked to senior actors about walking down on Garosu-gil wearing the costumes. (Laguter.) But it was interesting to try new types of clothes," explaining about the image change.
I thought I had to film <Sea Fog> and shoot a movie.
<Sea Fog> is Yoochun's 1
st
movie. He said, "I cannot explain well. But I learned a lot. Kim Yun-seok showed me how to act. I really appreciate him. Yoo Seung-mok always took care of me. Lee Hee-joon was a good advisor for me. Han Ye-ri helped me prepare for shooting a lot," explaining about the great teamwork he had with other actors.
Yoochun said, "I shot <Sea Fog> before I shot drama 'Three Days'. That was why I made mistakes with my walks and accents shooting the drama. I felt awkward as I thought suits did not suit me well," about the episodes happened after filming the movie.
Yoochun said, "It is my 1
st
movie. It was an honor for me to work with great senior actors and the director. Please support our movie, which will be released next month."
<Sea Fog>, Yoochun's 1
st
movie to debut with, will be released on August 13.
Written by Han Jihee, Photo by Ryuma, Translated by Lee Sarah