Tencent Interview...Triangle producer (Taewon) and cast...
UPDATED: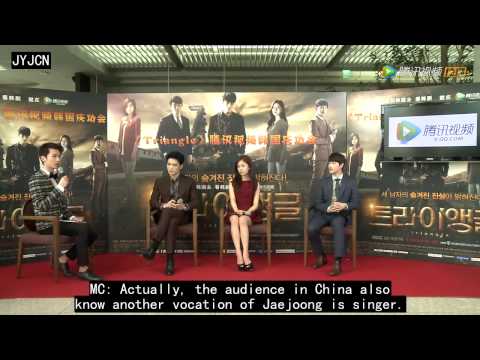 Tencent Interview
with English subs
by cn JYJ
via kpkjyj
some translations from the_little_pear
(Jung Taewon is the founder and CEO of Taewon Entertainment. He sits next to Jaejoong in
#
Tencent
interview)
-Jung Taewon from Taewon Ent: "We're planning a drama concert and various events after the drama ends."
-Jung Taewon from Taewon Ent: "It was a big adventure that we cast Kim Jaejoong. [At that time] he was a singer who couldn't ensure his place as an actor but we boldly cast him as one-top main lead (one-top: only one person is main lead). I think our adventure leads to a successful outcome"
-"We're discussing on Triangle drama cc/FM in China."
- Im Siwan: "The Tiger (Jaejoong LOL) is very kindhearted. He's kindhearted and thoughtful. So I'm being well raised in the Tiger's arms."
-Baek JinHee: "Oppa's schedule is much tighter than mine and it's really hard for him, but at the filming set, he never shows his tiredness, he's like a "vitamin". He lightens up the mood and always makes everyone happy."
Trans by kaloocapri
-Producer says JaeJoong is Tiger, JinHee is panda and SiWan is a deer
-JinHee hopes they will get the Best Couple award!!!
-Off screen, they actually call and send text messages to each other to maintain the feeling of in love
-According to JaeJoong, JYJ album will be released after Triangle ends ...
pic by sophiaonekiss
pic by ceskjj
Credit: JYJ6002